Your Essential Guide to Must-Have Camaro Mods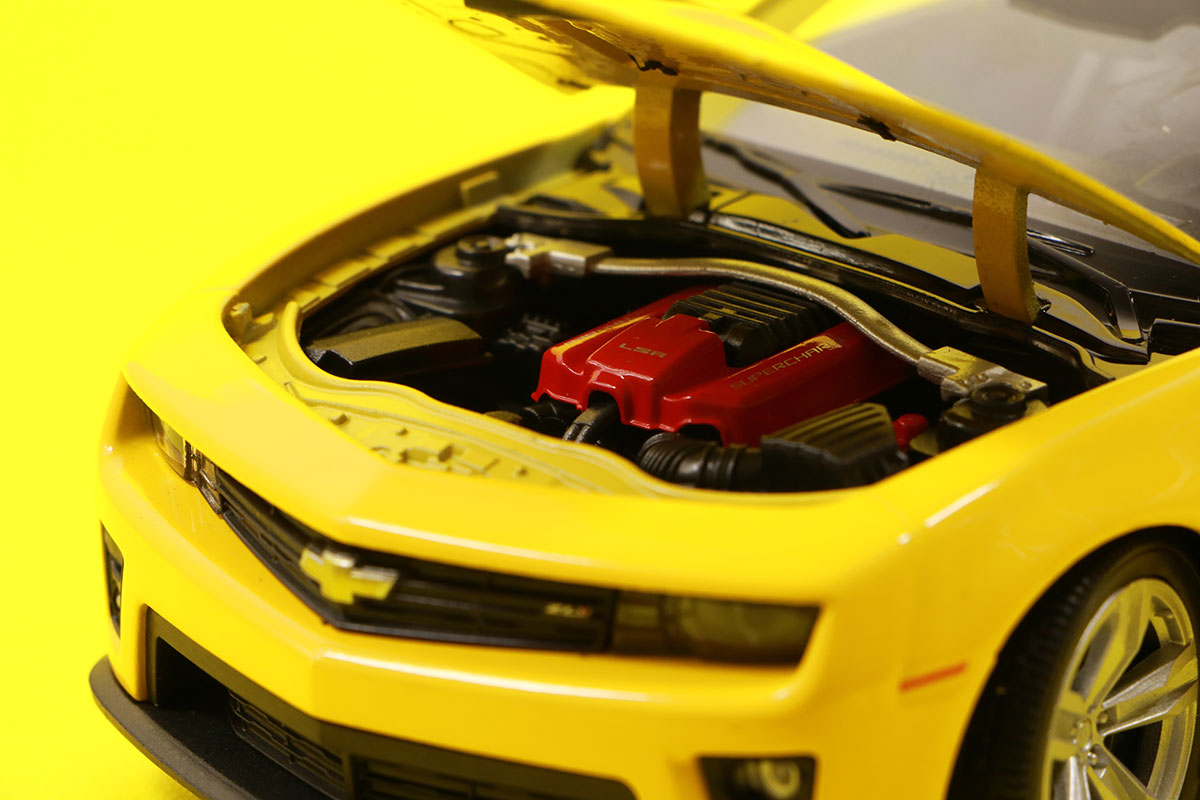 Must-Have Camaro Mods: An Essential Guide
You love your Camaro, but you know it could perform better and look nicer with the right mods. If you don't know where to start or you're simply looking for inspiration, you've come to the right place. Here's your essential guide to must-have Camaro mods.
Want an adrenaline rush?
As a Camaro lover, you already understand the beauty of the open road. But, what if you could enjoy your gorgeous car even more?
Custom Camaro performance parts are one of the hidden joys of being an enthusiast. It doesn't take much time, expertise or money to update your car with the best looking, best-performing Camaro mods — all you need is this handy guide!
In it, we'll show you some of the best parts to modify for beauty and what parts you can change to increase your power on the road. So, let's check out these mods!
Start At the Top: Get a Custom Front Splitter & Grill
If you're looking for wind resistance and aerodynamic beauty, there's no better place to start your journey into Chevy Camaro mods.
An aftermarket front splitter can offer more downdraft, improving the car's aerodynamics and making the car lighter, which helps your custom Camaro feel like it can fly.
An aftermarket grill can also up your attitude and fun factor, as these are available in a range of customizations. Some of the most popular types of grills are billet and mesh, which create different visuals as your car approaches — and zooms past!
Pro Tip: Consider a sealant or ceramic coating as one of your Camaro mods. If you're hoping to protect your paint from off-road woes and highway hijinx, a little bit of sealant can go a long way to providing you peace of mind.
The only drawback? It won't increase, or even preserve, the resale value of your car. As with any performance enhancer or modification, know that a sealant could ruin or drastically reduce the chances of you selling your Camaro back to a dealer. It's a good thing so many Camaro performance fans network and gather at events and online. Sales by owner are common and encouraged in the mod community.

Camaro Mods Classic: Aftermarket Exhaust & Spoiler
You didn't buy your Camaro to be low profile.
Everyone wants that classic "vroom, vroom!" sound, and a Camaro performance enhancement is just the thing you need to make a statement. When planning for upgrades, you definitely want to get an aftermarket exhaust pipe and spoiler.
These are classic Chevy Camaro mods that make you the king (or queen!) of the road, and they don't have to break the bank.
Custom performance exhaust parts that increase the sound and sexiness of your backend are some of the most popular and well-loved Camaro mods. A racing series mod will give you increased power and that zippy and prominent tone.
Smaller mufflers are a staple of racing series exhaust systems. Many are fashioned from stainless steel, but they may come with custom tips or a brushed finished.
You've been warned: It might get loud!
But even more important than looks and scream, a custom exhaust can increase your power on the road. Choose an exhaust system that increases the horsepower output of your Camaro.
Pro Tip: Custom exhaust systems don't have to be expensive to work well. Talk to other Camaro mods enthusiasts or any mechanic you know. They'll be able to point you in the right (and affordable) direction.
Spoiler Alert: Shake Your Tailfeather!
Pick a spoiler with a retro look and feel to make the back-end of your Camaro stand out (or go full-on new school, if you prefer).
The spoiler is a classic and historical part of the Camaro mods legacy and an option that your peers will respect (no matter the look you go for).
They're not super difficult to install for the Camaro custom do-it-yourselfer, but, if you can't go it on your own, the great news is that an aftermarket spoiler isn't expensive if you're hiring help. Any professional Camaro performance parts expert should be able to give your back-end a little lift.

Cold Air Intake System
Camaro owners not only want to enhance the body of their beloved car, they also want to improve its heart — also known as the engine.
Even though there are literally thousands of Camaro performance parts to choose from, you'll no doubt want to start boosting your power with a cold air intake system.
The right custom cold air intake system will help to unleash what's trapped under the hood by increasing your horsepower. When you move the air filter and allow your engine to "breathe," cooler air comes in from the outside, and these denser, colder blasts mean more power.
An air intake system won't set you back thousands of dollars either, which is one of the best things about this boost-worthy mod! This type of camaro modification usually only costs a few hundred bucks.
Pro Tip: Make sure you're competent enough to install it yourself or find a reasonably priced Camaro performance parts dealer that will make your horsepower dreams a reality. Cold air intake systems might also improve gas mileage!
Custom Camaro Mods Classic: Wheels
It may seem like an easy one, but choosing the right aftermarket wheels for your custom Camaro can lead you down a rabbit hole.
There are dozens, if not hundreds, of performance and racing grade tires that you might be dying to try out on your beautiful modded-out Camaro, but choosing the right set (or sets) of tires depends on how your drive, where you drive and how hard you are on your machine.
Performance enhancing wheels are perhaps some of the simplest of Camaro mods, but they might cost you a pretty penny. Don't skimp on this car hack: You want lightweight, strong tires to help you hug curves while maintaining control.
Drift tires are a completely different animal, and you don't want to use these for everyday wear if you can help it. For truly versatile drivers, it seems that once you start down the Camaro modification road, you might find yourself with several sets of wheels!
The sexiest wheels are concave design, as those fit best with the retro-cool body type of recent year Camaros. These are popular, but not often cheap. So, if you're going to splurge on Camaro mods, wheels may be the best bang for your buck!
Pro Tip: If you've lowered your car for racing performance, or if you have custom Camaro aftermarket brakes, make sure your wheels are calibrated for your new specifics. Speak to an expert in car mods before installing new wheels. You don't want to mess up your car!
Drop It Low
One of the main gripes of custom Camaro fanatics is that the suspension issued on the stock models bought off of the car lot aren't super great.
If you're using your car for city driving or carpooling, you might never notice. But if you're rallying, racing or road tripping in your Camaro, mods in this area are a good investment.
To "drop" a car means to lower the body closer to the ground, usually by changing the makeup of suspension springs or decreasing space between the body of the car and the top of the tires. (There are many other ways to alter the body of a car, but the above mentioned ways are among the most common.)
Most Camaro fans will tell you that it's worth it for the visual — getting rid of the gap between the body and the wheelbase is often a top priority for Camaro beauty kings and queens. The car does look incredibly beautiful when dropped like it could hug any mountain road or raceway with ease.
Driving in Suspense
What's more, dropping the Camaro solves your suspension ills. Your car will drive smoother, and be more likely to hit peak performance.
Some of the more flamboyant Camaro mods include sexy neon lighting under the dropped body, but make sure to check with local laws and restrictions before you premiere your undercarriage light show.
Even if you don't want to drop it like it's hot, replace your factory-issued suspension with bouncier springs and watch your ride smooth out and become more enjoyable.
Pro Tip: If you're interested in Camaro mods that replace your suspension springs, make sure to consider aftermarket shock absorbers, too. These go together like bacon and eggs.
It's the Little Things
There are numerous other, smaller Camaro mods you can do yourself, even if you're an aftermarket novice.
Custom floor mats, window tinting, license plate holders and stereo systems are just a few of the fun things you can upgrade with little to no technical or mechanical training and minimal out of pocket cost.
If you want to learn more about the best aftermarket Camaro parts, RPI's blog is one of the best resources on the Internet for car lovers of all types. But, of course, we've got a special place in our hearts for Camaros — just like you.
If you want to purchase high-performance parts and accessories for your Camaro or other cars, check us out online! We'd love to hear from you.