Mustang Madness: What Are The Most Popular Mustang Colors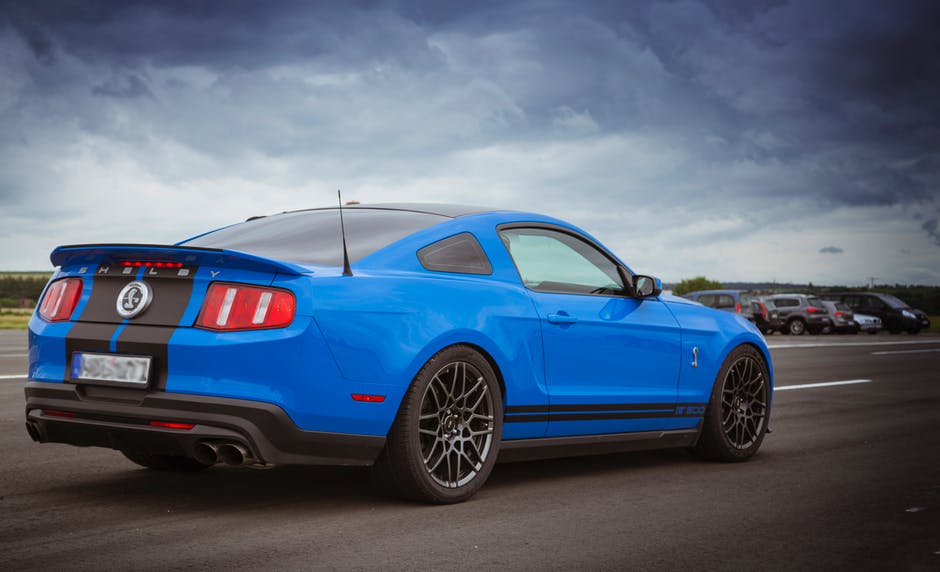 Have you ever seen a beautiful old Mustang and thought it was the coolest car you've ever seen? The Ford Motor Company introduced the first Mustang at the 1964 World's Fair in New York. After that debut, they were one of the most eye-catching and identifiable vehicles on the road.
Ford set out to make a fast and affordable car that drivers could enjoy and show off. On the same day fairgoers first saw the car at the World's Fair, Ford made the Mustang available to American Ford showrooms, and nearly 22,000 customers bought them that day.
In the same year, a Mustang appeared in the James Bond movie Goldfinger, the car's first appearance in a major motion picture. Four years later, the film Bullitt showed a green Mustang 390 GT in a car chase through San Francisco. In the subsequent 50 years, the car has appeared in hundreds of movies and sported hundreds of colors.
814 Mustang colors, to be exact.
A Short History of Mustang Paint Color
814 is a lot of colors. That number includes custom model colors and all Ford and Shelby type Mustang colors.
In 1964, Mustang buyers could choose from 19 colors, and hardtop and convertible iterations. The colors included Raven Black and Wimbledon White, and several shades of red, blue and turquoise. In 1965, a new red debuted: Candy Apple Red.
By 1970, the only two Mustang colors that Ford hadn't altered from those original 19 colors were the Raven Black and Wimbledon White, but Candy Apple Red was still in the mix. The Mustang also had some body-type iterations by then, including a fastback model available in lime green.
By 1990, the car was available in 11 colors. Raven Black lost its qualifier and became just Black. Ford offered three shades of blue, three shades of red (without a candy apple shade), and two shades of gray. Wimbledon had lost its seat at the paint table to Oxford in the White category.
In 2010, Ford offered the Mustang in nine colors. Customers could choose from two blues, two reds, two grays, one gold, Black and Performance White. One of the shades of red named "Red Candy," resembled the Candy Apple Red of the '60s and '70s.
This year, Mustang car shoppers have a choice of 11 colors. The car comes in two shades of blue, two shades of green, two shades of gray, two shades of red and orange. Oxford White has re-entered the market, and black is Shadow Black.
Fun Facts About Mustang Colors
Since the Mustang's introduction, Ford has offered a wide variety of colors that we haven't talked about here. These colors were signs of modern trends in the years they were introduced, and here are a few fun facts about those colors to appreciate:
In 1967, Mustang buyers could choose from two shades of pink:

Dusk Rose

and Playboy Pink. In 1968, the two available pinks were Passionate Pink and Hot Pink.

Shades of brown were among the top three most popular colors in the 1970s, but they became so unpopular that Ford discontinued this color for Mustangs, and it hasn't been seen since 2000.

In 1967, Ford offered the Mustang in nine shades of blue, and between 1967 and 1973, the Mustang was available in 19 shades of blue. Ford also included

racing stripes

as an option for these blues.

First-generation yellow and gold Mustangs were among the most popular, but these colors are overall the least favorite hues.

Mustang number 10,000,000 is Wimbledon White to honor the first serialized Mustang produced in March of 1964.

Between 1968 and 2018, Ford sold the Mustang in nine shades of orange, including two without paint codes for special orders and promotions in 1968.

There are only three shades of black: Raven Black, Black, and Shadow Black.
Shifting Popularity
Fifty-five years of paint production is going to attract different levels of popularity. Like fashion, music, and food, car colors are designed to appeal to a current generation of customers.
Mustang color popularity has shifted through the years, although the general range of favorite colors has remained focused. For instance, the Mustang was available in two shades of turquoise in 1965, but none were available after 1968. Turquoise turned to Aqua, but those colors disappeared ten years later in 1978.
Black was the least desirable first-generation Mustang color, but the most popular color of fifth-generation Mustangs. And in 1967, around 10 percent of Mustangs were red, with that color's popularity rising since then.
All Mustang colors have tended to be bright, saturated colors, and those vibrant hues remain steadily popular among Mustang owners. Some new 2019 Ford Mustang colors include the following:
Orange Fury

Velocity Blue

Need For Green

Triple Yellow

Race Red

Ruby Red

Lightning Blue
Not all the new colors are bright, but even the darker hues grab attention and stay consistent with the Mustang personality.
All-Time Favorites
After talking about shifting popularity and color fads, statistics show that no matter what year, there are clear overall favorite Mustang paint colors. So, from least favorite to most, here are the 8 most popular Mustang colors of all time:
8. Yellows and Golds
Six percent of all Mustangs sold are painted in these shades. These colors include early names such as Sunlight Yellow and Aspen Gold. Some particular models sported Canary Yellow, and Zinc Yellow was only offered in 2000.
School Bus Yellow, incidentally the official Ford paint for buses, was available on the Boss 302 custom model Mustang in 2013.
7. Brown
Seven percent of all Mustangs are painted brown. 1964 saw the first brown shade called Prairie Brown, and 1967 heralded Burnt Amber paint. Not a typo. Ford painted Mustangs in 50 shades of brown for 23 of 55 production years. Some shades include Copper Brown, Dark Brown, Dark Cordovan, Bright Copper, and Sand Beige.
6. Green
Ten percent of all Mustangs sold are green. The first green Mustangs were part of the 1964 introduction and presented in Pagoda Green, Dynasty Green, and Cascade Green. Cascade Green was the only true green in this group; the others were shades of turquoise.
Gotta Have it Green was a tri-coat paint option for 2013 and 2014 models.
5. Black
Twelve percent of Mustangs are one of three shades of black.  Never has a Mustang color fluctuate so much as black. We mentioned that black was the least favorite of all the first-generation Mustangs, and it remained such an unpopular color that Ford eliminated it for the Mustang in 1972, 1973, and 1974.
Black Mustang sales remained flat until 1994 when it broke into the top three colors and hasn't lost popularity since.
4. White
Thirteen percent of Mustangs come in one of eight shades of white. One of these shades is Pace Car White and was a custom order. Wimbledon White was the first white Mustang introduced, and from 1972 to 1983, the two shades of white available were White and Polar White.
3. Silver and Gray
Fourteen percent of Mustangs are silver, gray, and shades of each. In 1964 the first silver Mustang was Silver Smoke Gray. The film Gone in Sixty Seconds inspired the color Eleanor Gray, but the official color is DuPont 44490 Pepper Gray metallic. Since 2010, Ford has offered a silver shade called Ingot Silver shared with several other car models.
2. Blue
Seventeen percent of all Mustang owners choose a shade of blue for their car. Not surprising, considering that blue is an extremely desirable color for everything. The numbers reflected this when we mentioned that within the six years between 1967 and 1973, Ford made nineteen shades of blue available for Mustangs, including nine blues just in 1967.
And in its debut year, 1964, the Mustang was available in five different shades.
1. Red
Twenty-one percent of Mustang buyers purchased a red Mustang. That's over 1 in 5 customers. The numbers for red Mustangs are impressive: in 55 production years, Ford has made 141 offerings in shades of red.
Blue is the most popular color for most automobiles; Mustangs are an exception to that rule. In 1964, three shades were available for this car: Rangoon Red, Vintage Burgundy, and Poppy Red. Candy Apple Red re-entered the market in 1965 and remained a favorite through 1970.
Ford's current offering of Red Mustangs includes Race Red, Royal Crimson, and Ruby Red. These three shades closely mirror the three in Ford's initial Mustang introduction.
What's Next?
The Mustang inspires loyalty and love of driving uniquely its own. Since its inception, this car has motivated owners to customize it, add to it, and keep it forever. Mustang owners commune online and in person to show off their cars and share their knowledge. And when a famous Mustang makes the news, the community pays attention.
It's important to remember that these are overall numbers and that Mustang colors are subjective. These shifting trends we talked about earlier will continue to happen and what's popular today can fall out of fashion next year. One shade of red will not sell at all while others break records.
If you're a Mustang owner, you'll appreciate access to information, parts, and accessories to enhance your driving experience and keep your car on the road. A good company with helpful information is invaluable to any car enthusiast.
We can help with your next upgrade, find a specialized part, and give you information about new car models. Check out our information and contact us with anything you may need for your vehicle.