The Ultimate Guide to Mustang Racing Stripes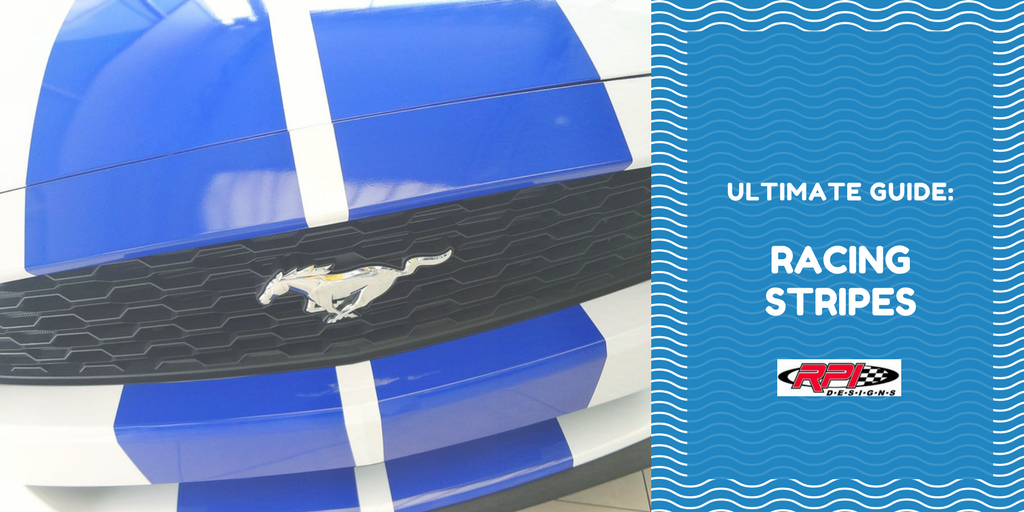 Q: What's the fastest way to make your Mustang look…faster?
A: Any Mustang racing stripe kit available at RPI Designs.
We understand that's a loaded question, especially in the Ford community; many Mustang enthusiasts will tell you that nothing beats side skirts or a rear spoiler. And you'll find plenty of exterior accessories to choose from in the RPI Designs parts warehouse.
Of course, you can always make your Mustang appear quicker with a performance exhaust system, or even with a cool new gauge cluster. From outside the car to internal accessories and even under the hood, there's virtually no limit to the different ways you can rev up your Pony's appearance.
These are all great techniques for getting the look you want, but let's go back to the original question: what's the fastest way to make your Mustang look faster? Say what you want about a sleek new exhaust package or cockpit gauge upgrade, but those types of upgrades take time. From electrical connections to pipe clamps and more, these types of do-it-yourself Mustang projects are rewarding. They're a great investment in your car. And they'll help turn heads at the racetrack or in the showroom. But they're definitely not the fastest method for improving your Mustang's profile.
From our perspective, few upgrades are as quick and comprehensive as Mustang racing stripes. In under 30 minutes, you'll have a race-ready driving machine – the same Mustang under the hood, but a decidedly sportier and sleeker on the outside. Mustang racing stripes just have a way of revving up your Pony's appearance – and thanks to RPI Designs, you have plenty of options available! This guide to Mustang racing stripes includes plenty of useful information to consider before your purchase at RPI Designs. We'll also review some classic Mustang racing stripes, along with some newer designs.
Let's look at some of the most popular Mustang racing stripe kits at RPI Designs – but first, a quick history on the development of racing stripes.
Racing Stripes – A Quick Trip Down Memory Lane
Before the 1960s, racing stripes weren't a common feature for American sports cars, even the Ford Mustang. Racing stripes got their stars in the European racetrack circuits in the 1930s and 1940s, thanks to wildly popular race fans in France, Italy, the United Kingdom and Germany. These road races attracted fans from all over the continent, including a few from across the pond in the U.S.
Racing stripes originally weren't for making cars look faster; they helped identify race cars from regular passenger cars, as most of the European races were on public roads and highways. Eventually, American car manufacturers (including Ford) decided to incorporate racing stripes into their cars, thanks to positive feedback from fans who witnessed legendary European road races. The Mustang has offered stock racing stripe options for years, but not every Mustang has them. As a result, 3rd party car parts providers began making their own, which match the quality OEM Ford Mustang racing stripes.
RPI Designs is proud to offer a complete assortment of sleek Mustang racing stripe kits. With easy installation, solid durability and instant (and totally affordable) "wow factor" in their favor, racing stripes are one of the most sought-after exterior upgrades. We've put together this guide to Mustang racing stripes to showcase some of the cool accessories and kits available. Lucky for you, RPI Designs carries cool stripe packages at great prices, including:
2015-2017 Ford Mustang Triple Over the Car Stripes For Convertible
Why stop at one or two stripes, when you can have three for your Mustang? This triple stripe kit is for the 2015-2017 convertible Mustang (no wing), and includes more than a dozen color combinations. With a slight modification, the stripes can be applied to a small portion of the wing. With an install time of less than an hour and relatively easy application, these are great Mustang racing stripes for your convertible!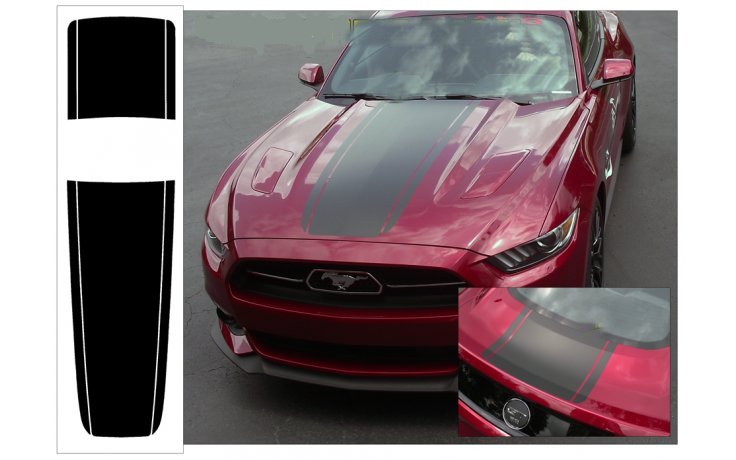 2015-2017 Ford Mustang Dual Hood Stripes Solid Style with Pinstripes and Faders
This popular kit covers both the hood and front quarter panels of your Mustang, with a bold, aggressive look and easy-to-install convenience. Perfect for that "fade" look that Mustang owners want. If you're looking to cover your Mustang with more than just a hood stripe, this one's perfect!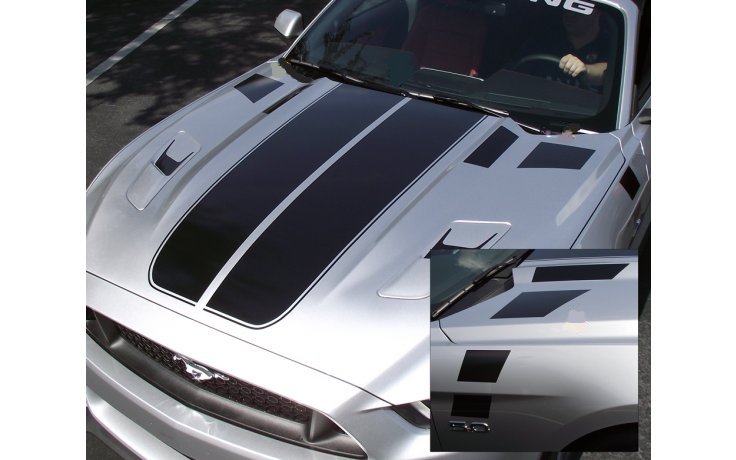 2015-2017 Ford Mustang – Lemans Straight Dual Racing Stripes
Inspired by the legendary European sports car race, this 10" Lemans dual racing stripe adds instant appeal to your convertible Mustang. Choose between a no wing or low wing configuration, then select a color – we have plenty to pick from! Crafted from the highest quality 3M automotive grade vinyl material, this Lemans Mustang racing stripe kit lives up to its name as an ultra-durable, super-stylish addition to your Pony!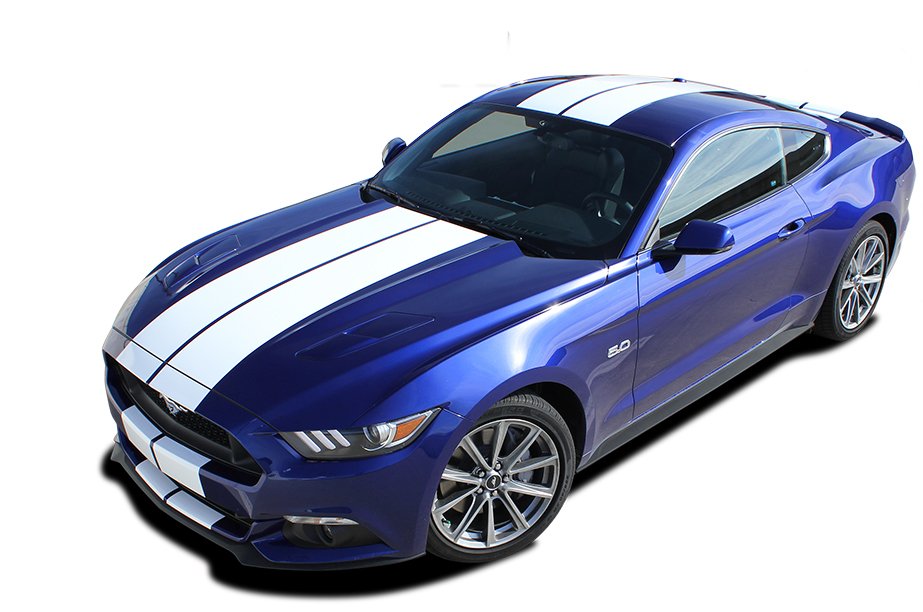 2015-2017 Ford Mustang Lower Rocker Side Stripes Kit
To many people, "Mustang racing stripe" equates to "Mustang hood stripe." But not so fast…don't forget about your 'Stang's sides. This lower rocker side stripe package shows precise detail in an affordable, quick-install format.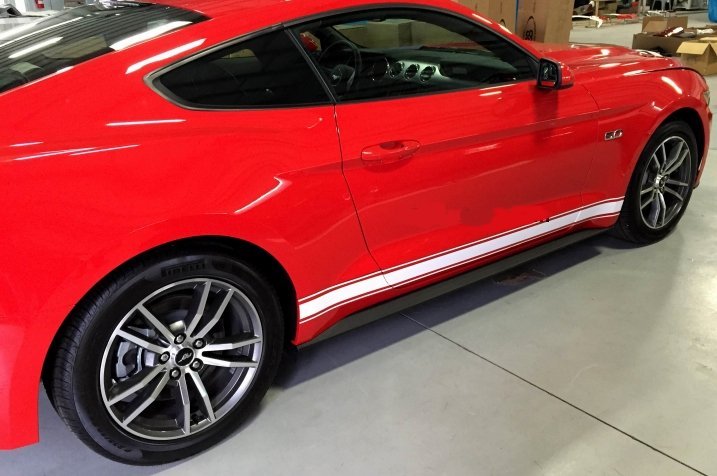 2015-2017 Ford Mustang Dual Hood Stripes
Nothing says race-ready like a solid stripe kit. These Mustang racing stripes bring an aggressive profile to your 6th generation Mustang, thanks to a dual-stripe configuration and vibrant color. Paired with a lower rocker side stripe kit or rear stripe package, this is a great way to give your Mustang an exterior appearance that'll be the envy of everyone at the racetrack.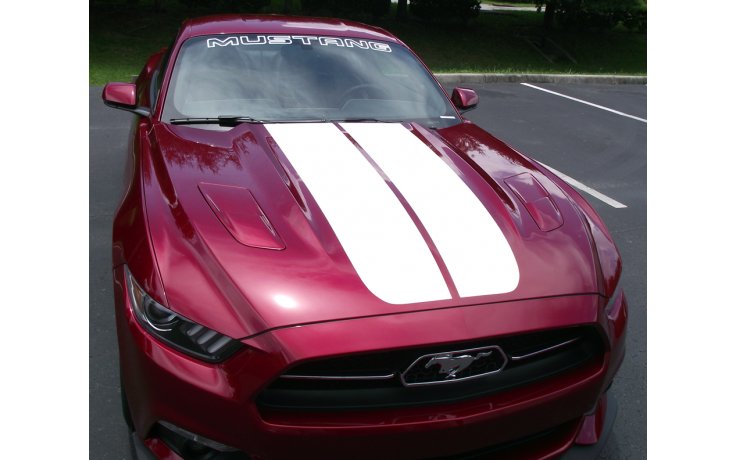 2005 – 2009 Mustang Rocker Racing Stripes
This officially licensed Ford product offers OEM pedigree with the fun & flexibility you've come to expect from RPI Designs racing accessories. A cool fade graphic sets the stage, while a bold MUSTANG text logo completes the look. Peel & stick convenience make it insanely easy to install, and its rugged 7-year rated vinyl composition ensures these Mustang racing stripes will accompany your car for thousands of miles to come. Includes a stripe and graphic for each side of your Pony. This is one of our best-selling racing stripe packages at RPI Designs, and it's easy to see why!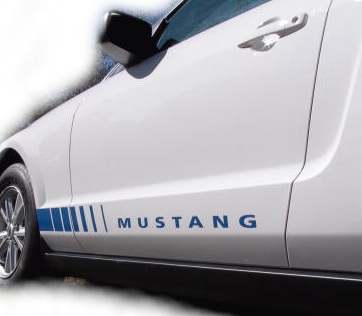 2005-2009 Ford Mustang C-Stripes Kit
Looking to go old school with your Mustang racing stripes? Look no further than these sleek, high-octane C-stripes for the 5th generation Pony. Rated for at least 7 years, this is one of the longest-lasting Mustang racing stripe kits available at RPI Designs. What's more, this popular kit includes ultra-easy application and is an officially licensed Ford product. Why settle for imitators when you can have official Ford Mustang stripes? For a vintage 5th generation look, it's hard to beat this Pony racing stripe kit!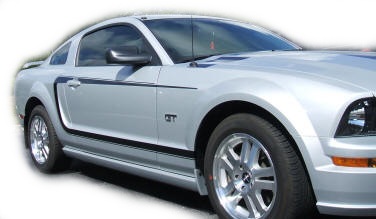 2015-2017 Mustang Offset Full Length Stripes Kit
With quality vinyl construction, vibrant color possibilities, and trademark Mustang style, this full length Mustang racing stripes kit has everything you need to make your Pony stand out on the road – all at a great price! With a bold 18"width, these stripes are hard to miss, even from a distance. Slight tapers near the ends allow for a snug fit near your car's hood and front end. Plus, every stripe application in pre-cut and clearly labeled for a quick, simple install. Choose a single color, or add a second – it's all up to you!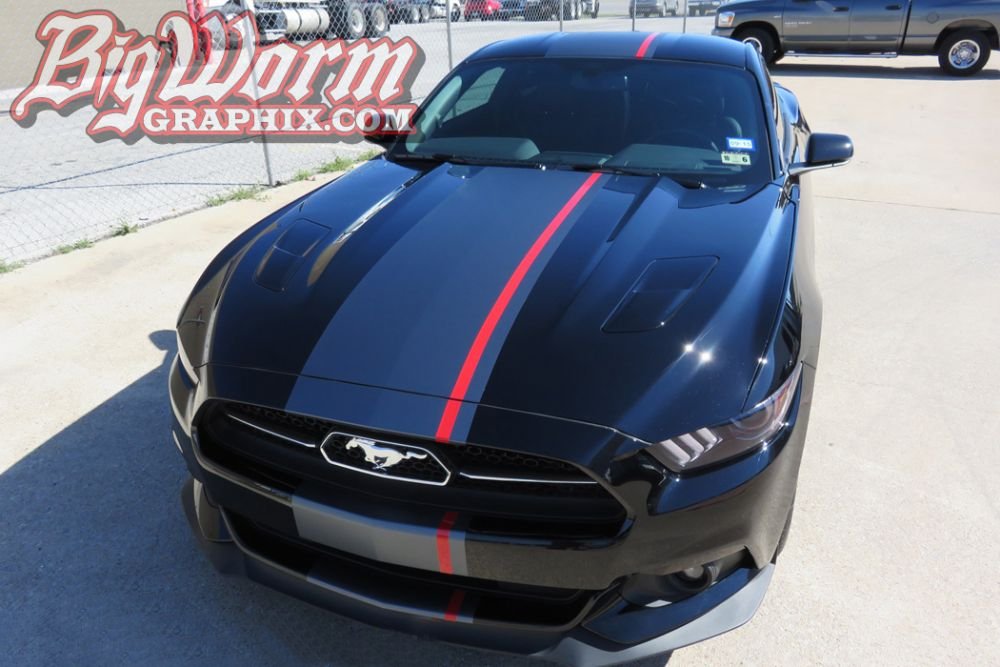 Thanks for stopping by the RPI Designs blog. If you have any questions about a Mustang racing stripe package, give our Mustang parts consultants a call at 888.257.8515. We look forward to hearing from you!