Kooks vs. American Racing Headers – Premium Exhaust Accessories at RPI Deigns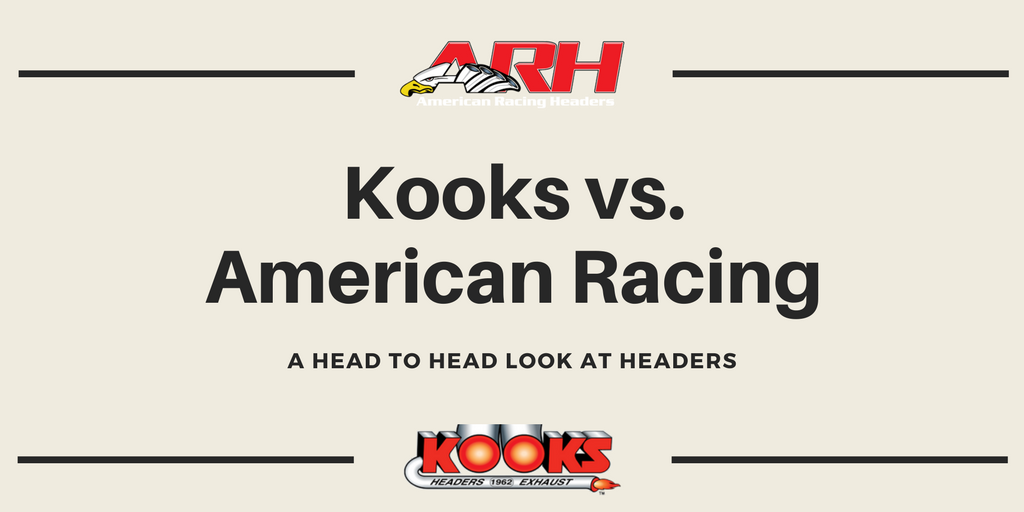 The Mustang, Camaro, and Corvette are all about pushing the performance envelope. Getting that last possible drop of HP possible. Testing the limits of what's possible – and sometimes, going past the point of no return. In short, if you own one of these three legendary American sports cars, "good enough" simply isn't good enough.
You demand the very best out of your car, and that means making small adjustments and, at times, major overhauls, especially when it comes to replacing OEM parts with premium aftermarket accessories.
Take exhaust headers, for instance. To get the most out of your Corvette, Camaro, or Mustang, adding aftermarket exhaust headers is a great way to improve performance. With headers from manufacturers like Kooks and American Headers, you'll enjoy:
Better torque
Increased HP. Some of our exhaust headers have been known to add 15-25 extra HP!
Sleek, streamlined appearance. For showroom appeal, few components can top an upgraded exhaust system.
Speaking of Kooks and American Racing headers, those two brands have rightly earned a stellar reputation as some of the most sought-after exhaust parts for the Corvette, Camaro, and Mustang. At RPI Designs, Kooks and American Racing always rank as some of our best-selling accessories.
The Kooks vs American Racing debate is stronger than ever – let's look at how each header integrates with each type of car.
Ford Mustang – Kooks vs American Racing Headers
Most Ford Mustang enthusiasts agree that both Kooks and American Racing exhaust headers are great for any Pony, including late models. Considerable gains in HP and torque have been documented for both kinds of exhaust headers.
Some DIY installs can be problematic with exact pipe size settings (especially between 1 3/4" and 1 7/8" pipes), so double-check your Mustang's compatibility with American Racing and Kooks exhaust headers. When you buy from RPI Designs, all of our products are designed for "better than OEM" fit, which means your upgrade project should go smoothly. Of course, if you run into any problems with your Mustang Kooks or American Racing install, you can always give us a call at 888.257.8515!
One Pony exhaust set that's earned positive reviews is our 2015-2017 Ford Mustang Kooks Long Tube Headers kit, which includes OEM compatibility, solid stainless steel construction, Scavenger Spikes for superior airflow, and typical Kooks attention to detail. We recommend this Kooks header package for all 2015 – 2017 Mustangs.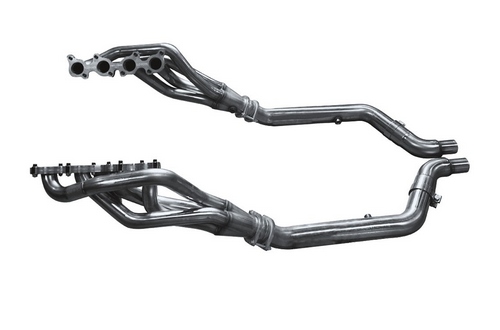 With Jet-Hot ceramic coating, the 2015-2018 Ford Mustang GT Kooks 1 3/4″ Headers are designed for premium performance at any speed – under practically any condition! All gaskets and hardware are included, and as an added bonus, off-road connection pipes come standard. If you run your Mustang everywhere and anywhere, this is the header kit to get!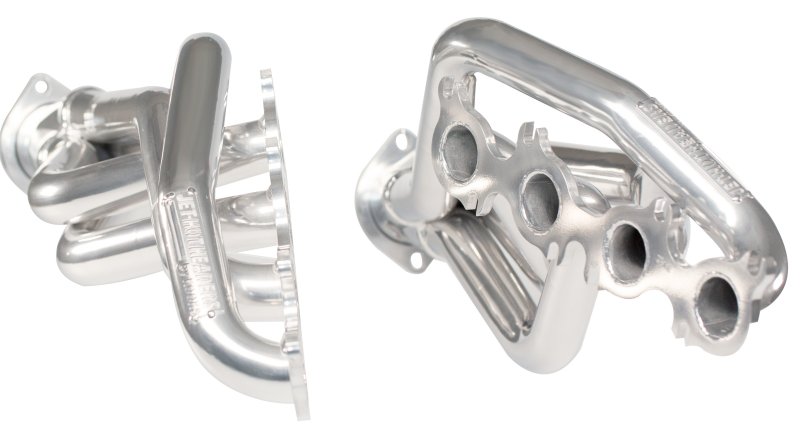 Regardless of what brand you choose, all Ford Mustang exhaust header upgrades should receive a tune-up afterwards. It's not required, but certainly recommended – this way, you'll ensure your new headers are performing at optimal capacity!
Kooks and American Racing Headers for the Chevy Corvette: Who Comes Out on Top?
While the Chevy Corvette is outfitted with high-performance stock exhaust headers, they're still not up to speed (quite literally) with Kooks or American Racing headers. Both are highly regarded in the Corvette community, and each has its own unique attributes. You really can't go wrong with either type.
For an instant performance boost and full-throttle acoustics, check out the C7 Corvette American Racing Mid Length Headers. This premium kit allows you to install without changing your X-pipe configuration. Plus, this AR setup also ensures a seamless, like-a-glove fit.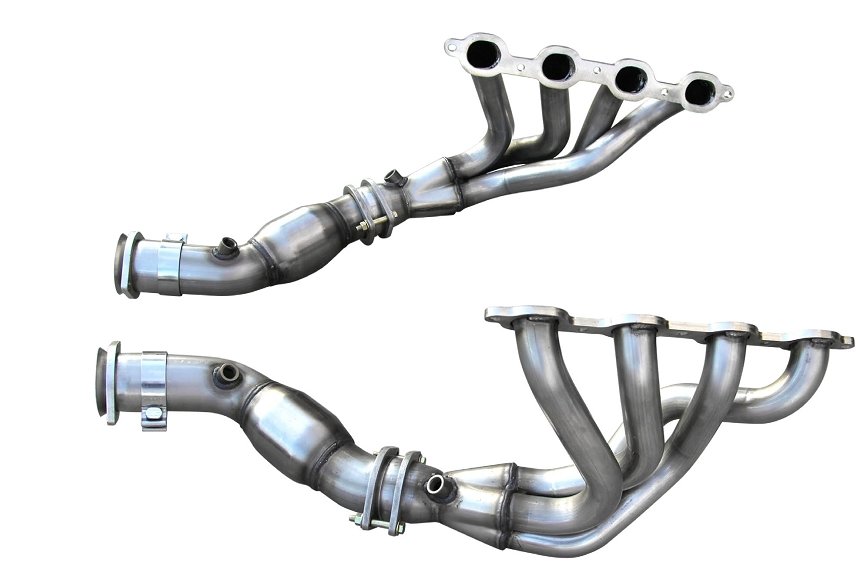 If you want X-pipe versatility backed by a proven Corvette aftermarket header manufacturer, try our 2014-2018 C7 Corvette Stingray KOOKS Long Tube Headers on for size. Corvette enthusiasts love the perfect fit, and you'll also get a 2 3/4" outlet for stock exhaust integration.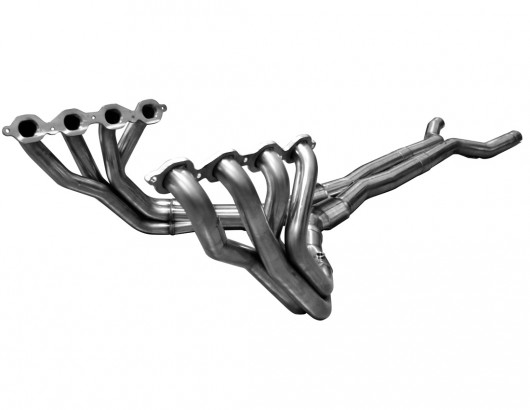 These are only two of our Kooks and American Racing kits for the Corvette. Check out our entire selection today!
Chevy Camaro Exhaust Components: Choosing Between American Racing and Kooks Headers
Debating Kooks vs American Racing headers with a Camaro owner is a tough task. Each side has their own valid points, but from our perspective, there's nothing wrong with trying both! It's hard to convince an American Racing fan on the merits of Kooks headers (and vice versa), but each type of Camaro header features outstanding performance attributes, exceptional value, and unmatched reliability.
For headers and everything else, it's hard to beat our 2010-2014 Camaro SS Complete Kooks Performance Headers and Exhaust System. The 5th generation Camaro is a popular choice for exhaust upgrades, and DIY projects don't get any better than this. With premium HP and torque gains across a full RPM range, and a deep audio tone, this is one of the most complete and comprehensive kits you'll find anywhere. Upgrade your Camaro SS today!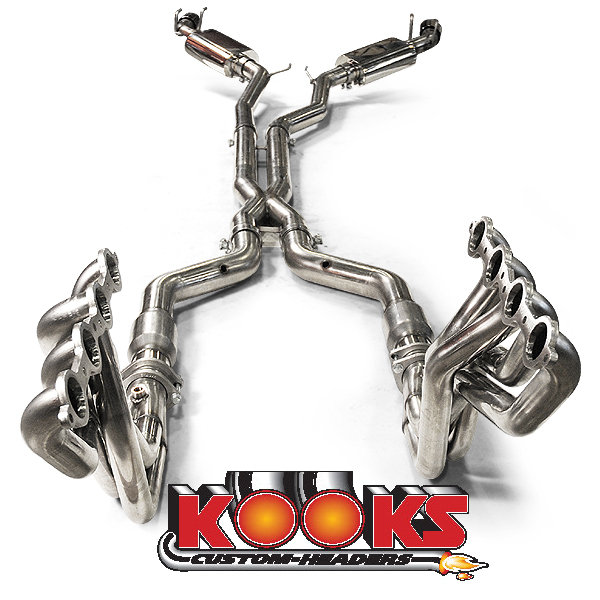 5th generation Camaro owners have an equally impressive header configuration with this 2010-2014 Camaro SS V8 American Racing Short Tube Headers kit. A short-tube layout ensures a snug fit, and quality 304 stainless steel construction means these headers are with you for the long haul. With up to 50 RWHP gains (including a tune up) and up to 45 foot-pounds of torque (post tune up), this is simply one of the best exhaust headers for the 5th generation Camaro – or any Camaro!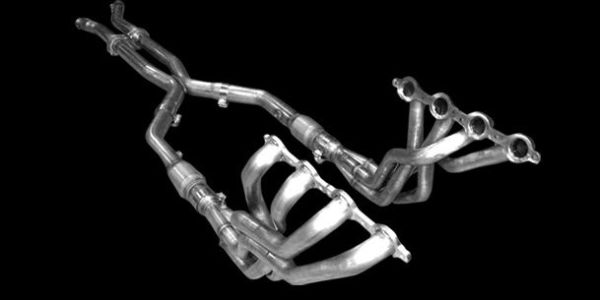 Kooks and American Racing Headers – You Can't Go Wrong at RPI Designs!
As one of the leading independent suppliers and distributors of top-end Corvette, Mustang, and Camaro parts, RPI Designs has earned a reputation as the place to go for Kooks and American Racing exhaust headers. If you're looking to add a horsepower boost, improve your car's appearance, or would like to achieve a full-throttle exhaust sound experience, we have everything you need – and more than a few exhaust headers you want!
Thanks for stopping by RPI Designs, your #1 source for Kooks and American Racing exhaust headers. Whether you drive a Mustang, Camaro, or Corvette, we have the exhaust components, exterior accessories, and other parts for your next upgrade project.
To connect with our Kooks and American Racing parts professionals, please call us at 888.257.8515. We look forward to helping you with your next project – contact us today!