Choosing the Right Camaro Headers: Long Tube vs. Short Tube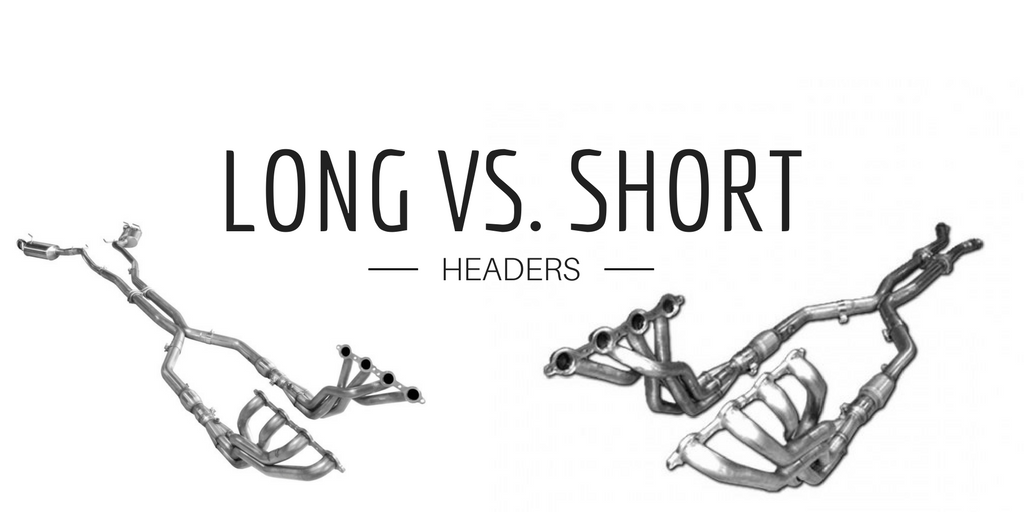 Camaro owners have strong opinions about which body & engine modifications offer the most "bang for the buck," in terms of value and overall performance upgrade.
Front splitter or rear spoiler for optimal aerodynamics and down draft? Retrofit turbocharger or cold air intake? Engine tuner or new cluster gauge? Will a cat-back exhaust provide enough of a difference in a Camaro's performance, or should you replace the entire exhaust, from the exhaust manifold to the muffler?
And each of these "Camaro controversies" have their own set of sub-debates, too. For example, cold air intake enthusiasts are divided on issues like what type of filter should be used with a forced air induction system: paper or oiled? Another "sub-debate" for cold air intakes involves performance gains; some Camaro owners think it's all about torque, while others just focus on horsepower.
As you can see, a car as beloved as the Camaro can certainly generate its share of intense arguments. But that's what all great cars should do; after all, this level of passion simply doesn't exist with other automobiles.
There are plenty of Camaro debates to go around, so we might as well add one more to the mix: when you're upgrading your Camaro's exhaust system, should you go with long tube or short tube headers?
It sounds like a pretty basic question, but – being that it's a debate about Camaro performance – it's just as bitterly contested as all the other Camaro arguments.
Long Tube Headers vs Short Tube Headers – The Next Great Debate
When you're ready to make an exhaust upgrade with your Chevy Camaro, deciding between short tube and long tube headers depends on a ton of factors, but two stand out:
Performance – each type of Camaro exhaust configuration offers unique performance characteristics, primarily (as we'll see in a minute) based on a specific RPM range.
Appearance – as you'd probably expect, long tube headers offer a more prominent profile, while short tube Camaro headers tend to keep a more concealed footprint. This is an important consideration for car shows and other events where the entire Camaro is up for inspection.
Both types of exhaust headers can provide a much-needed performance boost over stock Camaro exhaust components, and our selection provides a ton of top offerings from some of the most renowned, trusted, DIY-preferred brands available, including Kooks, Borla, American Racing, and many more.
Our exhaust experts here at RPI Designs get tons of questions about the Camaro, and a good portion of those involve the subject of this article…at the end of the day, which type of Camaro header is better: long tube or short tube?
To help you make the best decision for your Camaro's performance, let's look at the advantages each type of Camaro header tube offers. Then, we'll review some of the most popular long and short tube Camaro headers available at RPI Designs. But keep this in mind when you're making a selection – every Camaro exhaust header set we offer has already gained the approval of the most dedicated Camaro fans on the planet – the staff here at RPI Designs! With our product line – including our long tube and short tube Camaro exhaust headers – you know you're getting the absolute best quality, for the best possible price!
Long Tube & Short Tube Camaro Headers: Pros & Cons, Plus a Few Things to Consider
Here's the first thing you should know about an aftermarket set of Camaro headers from RPI Designs, both long and short tube variety: it's definitely better than the stock headers. Each type produces a bit more horsepower and torque, so it just depends on what you're looking for in your exhaust system.
Long tube headers generally produce more torque at the lower PRM range, while short tube headers provide more HP at a higher RPM. But that's not the only difference. Short tube headers typically don't require an engine tune-up to enjoy any additional torque or HP. If you're getting long tube headers, we recommend a post-installation engine tune up, which will help your Camaro's exhaust system optimize the new configuration.
One more thing to consider is installation time. Many of our customers buy short or long tube Camaro headers with the intention of saving money. And this savings is two-fold; since our Camaro headers are already priced for optimum value, there are significant savings for parts. Plus, a do-it-yourself (DIY) long or short header tube installation bypasses the single-greatest expense when it comes to Camaro exhaust upgrades: the labor cost.
But time is money…so double-check your Camaro header upgrade to see if it requires additional piping that might not be included with your purchase. Thankfully, most of the short and long tube Camaro header systems at RPI Designs include everything necessary for a complete, hassle-free installation.
Four Favorites from RPI Designs: Short & Long Tube Camaro Headers
Here are a few short & long tube Camaro headers that offer peak performance, great value and DIY-compatible installation:
2010-2014 Camaro Borla Camaro Shorty Headers
Designed specifically for the 2010 (and later) Camaro with an L99 / LS3 engine, this high-performance short tube header set provides an immediate boost in HP. These shorty headers are ideal working in tandem with a Camaro cold air intake; to get the absolute best performance, try these Borla short tube headers with an air induction system. Like other Borla short tube exhaust systems, these don't require any additional exhaust piping; simply bolt right on to this premium shorty system, and you're good to go! Purchase these Camaro short tube headers with confidence; Borla is a trusted name in the aftermarket performance car industry.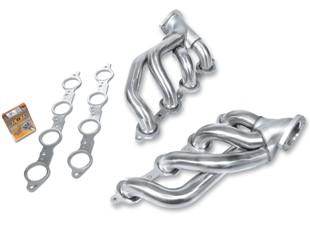 2010-2014 Camaro Billy Boat Performance Exhaust and Long Tube Headers
If you own a 5th gen Camaro and are need an exhaust upgrade, this Billy Boat performance kit has everything you need. The BB engineers applied their legendary attention to detail with this kit, including quality T304 stainless construction and fits-like-a-glove integration that equals any stock installation. Choose between a 3" (for the V8 & Sport Camaro) or 2" (V6) for custom, optimal performance. Aside from the gains you'll enjoy with HP and torque, this meticulously manufactured long tube header set also delivers a crisp, clean exhaust note, thanks to Billy Boat's Purge Resonance Technology (PRT). With premium features, precise engineering, and exceptional value, this is one of the best all-around Camaro long tube header exhaust kits available today.
2010-2014 Camaro SS Long Tube Kooks Headers System
Like other Kooks long tube header exhaust add-ons for the Camaro, this set includes 1 7/8″ x 3″ quality stainless steel long tube headers, along with off-road connection pipes. Bottom line: you get premium power performance with an OEM-compatible connection.  This popular Kooks system offers a little bit of everything: superior exhaust tone, better torque, maximum HP gains and – of course – the aggressive, get-outta-my-way appearance that sets every Kooks exhaust header set apart from the rest!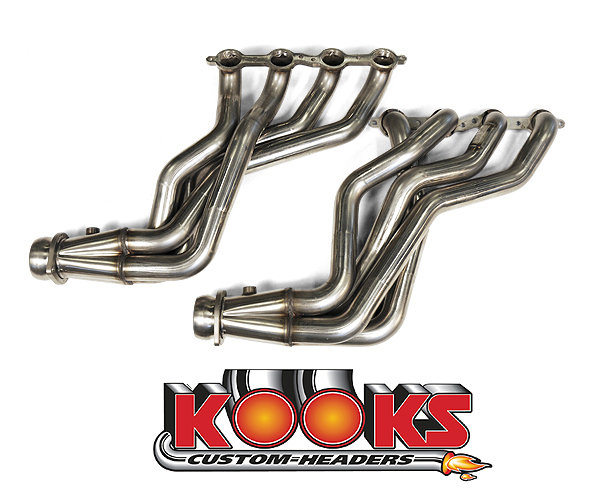 2010-2014 Camaro SS V8 American Racing Long Tube Headers
From American Racing, this Camaro SS long tube header set includes everything necessary for a flawless installation – and performance gains you'll notice right away! This set includes the entire system, back to your Camaro's rear axle. What's more, rigorous road tests have verified up to +32 RWHP (no tune) and +50 RWHP (with tune). A favorite among Camaro owners and RPI Designs customers, this set has comprehensive quality and unparalleled value. Get one for your Camaro today!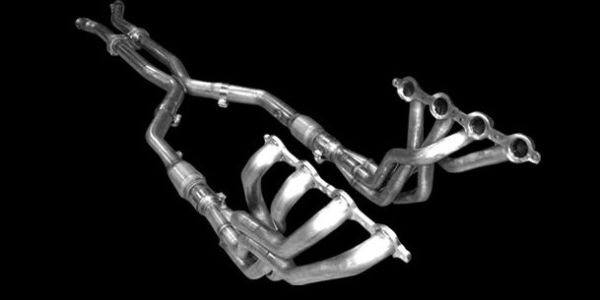 2010-2014 Camaro SS V8 American Racing Short Tube Headers
Short and to the point, this set of American Racing short tube headers gives your Camaro impressive torque and HP gains from the original stock exhaust system. These short tube headers are manufactured for easy connection to a Camaro's stock cat-back system, or aftermarket cat-back exhaust. Durable 304 stainless steel construction ensures lasting value, while complete kit convenience means you'll have everything necessary to get started right away. Flanges, merge collectors, clamps, hardware and more – this American Racing short tube header set is ready to go, right out of the box! This is one of the most popular short tube exhaust kits for the 5th generation Camaro, and it's easy to see why!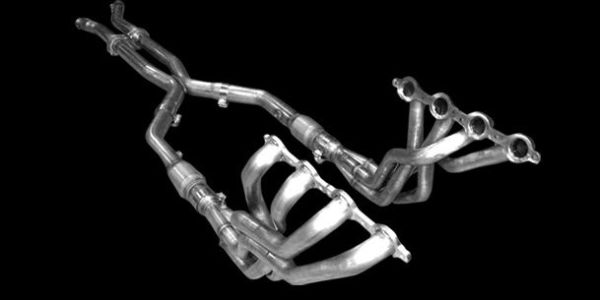 2016-2018 Chevy Camaro 6th Generation SS 6.2L V8 Kooks Stainless Long Tube Headers
Kooks has earned a reputation as one of the most trusted Camaro exhaust parts suppliers, and these 6th generation SS headers keep that tradition alive. This kit is one of the most popular we well at RPI Designs. This set includes 2" x 3" stainless steel long tube headers, along with all the required hardware components necessary for a flawless DIY installation. Even if you don't plan to install this long tube Camaro header set yourself, you can still save money by purchasing from RPI Designs. Designed for all 6.2 L 2016 – 2018 Chevy Camaros, this configuration is ideal for anyone looking for a performance and appearance upgrade!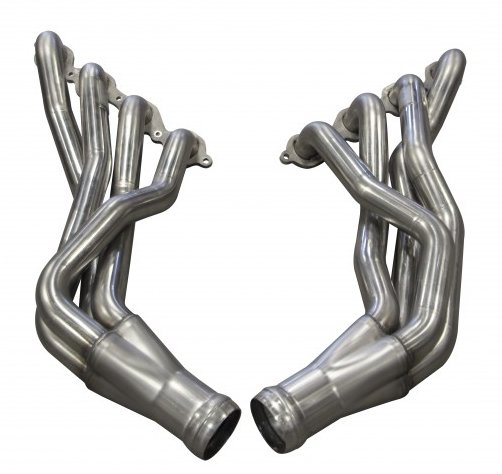 Browse RPI Designs Today for the Best Camaro Tube Headers…Both Long & Short!
Which side of the long vs short tube header debate do you belong to? At RPI Designs, it really doesn't matter; our selection of short and long tube headers give you near-endless options for your next DIY exhaust upgrade. We carry well-known brands from popular manufacturers, and our prices give you the best possible value for Camaro headers, whether online or in-store.
Along with top-end Camaro headers, we also carry high-performance exhaust components (including long & short tube headers) for the Chevy Corvette, Dodge Challenger, Ford Mustang and other popular car brands. Regardless of your car loyalty, one thing's for sure: no other parts supplier offers the value, selection and service you'll find at RPI Designs!
If you have any questions about your Camaro header order, or would like to speak with our performance exhaust experts, please give us a call at 888.257.8515. Once you've filled your cart with long or short tube Camaro headers, check out our gift certificates – perfect for any car-crazy buddy on your gift list – and be sure to review our current specials. Thanks for reading our blog – and from the entire team at RPI Designs, we appreciate your business!