Spoiler or Wing: Do-It-Yourself Mustang Upgrades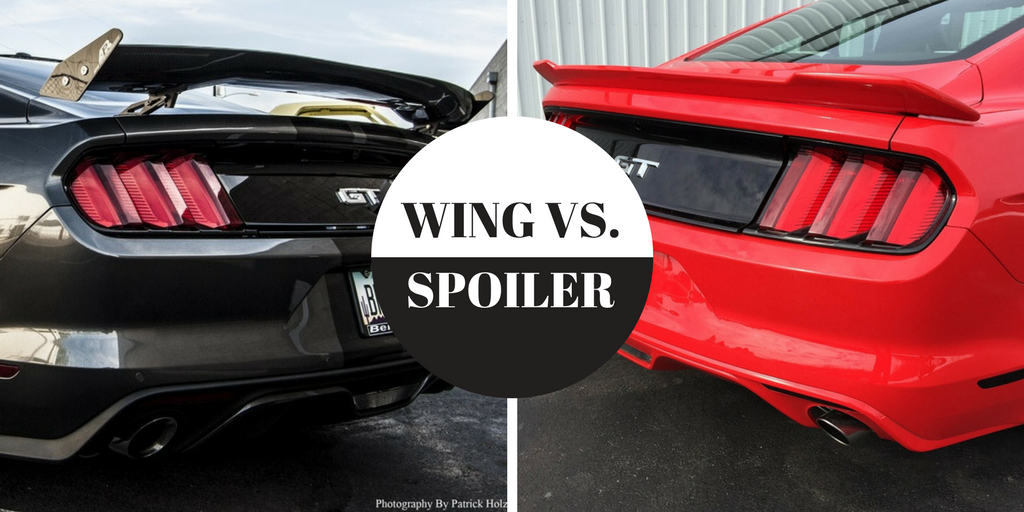 High-performance cold air intake or supercharger? Covered or bare calipers? Factory or aftermarket front splitter? Regular or short throw shifter?
Great debates about parts are one of the things Mustang owners love about their car. They have to argue about something – after all, one of the "big" debates about which car rules the road has already been settled (at least among Mustang fanatics): the Ford Mustang, of course!
One of the hottest Mustang debates right now is between a rear wing or rear spoiler. Each side of the aisle has valid points, and this blog post will help identify particular pros and cons for each accessory, and we'll also look at a few of the most popular Mustang wings and spoilers currently available on RPI Designs.
Let the debate – and hopefully a few answers – begin! But first, a quick word on the primary differences between spoilers and wings.
Wings vs Spoilers: Differences & Similarities
Rear spoilers and wings are often confused for each other. In fact, many Mustang owners like that a spoiler is actually a wing – and vice versa! However, there are distinct attributes that distinguish each part from the other.
A wing is typically regarded as an appearance-only component, but nothing could be further from the truth. There's a method to its madness, and it starts with the ability to produce (and sometimes increase) a downdraft (or "downforce") over a car's rear wheels. In theory, a greater downdraft on a car's back end results in better handling. But here's the catch with a rear wing: it can absolutely increase this desired downdraft, while also increasing drag. The larger and higher the rear wing, the more drag is created. Thus, there's a trade-off with a rear wing on the Mustang (or any car). Because wings add instant racing appeal and an aggressive profile, many Mustang owners are willing to live with better downdraft and extra drag.
Have you ever wondered why a spoiler is called a spoiler? The name is due to the device's intended purpose: to "spoil" wind resistance across the surface of your car. Essentially, the more a spoiler actually spoils this extra air, the more aerodynamic your vehicle becomes. Spoilers are NOT just on the rear of a car; many spoilers are on the front of car – the first line of defense against undesirable wind resistance (a diffuser, located under the front bumper, is a type of front spoiler). But the term "spoiler" is synonymous with the back end of a car, and that's what we'll focus on here. Unlike front spoilers, rear spoilers are primarily designed to reduce wind resistance and turbulence as air flows off the back end. Some rear spoilers are very effective at this, while others can potentially add more drag!
Here are some current RPI Designs products our customers love:
2015-2017 Ford Mustang ROUSH Rear Spoiler
One of the legendary names of Mustang after-market accessories, ROUSH, delivers again with this popular rear Mustang spoiler. This ROUSH rear spoiler is all about stability and visibility. The spoiler's fine-tuned, high-octane design helps provide optimal airflow at practically any speed – at the track, on the open highway and elsewhere. Plus, this rear spoiler is strategically notched to offer unobstructed visibility, making it one of the most safety-minded Mustang exterior accessories. Designed for all 2015 – 2017 Mustang Coupes, this ABS plastic spoiler is made for a perfect fit, so installation is a breeze. For the spoiler vs wing debate, there's always one winner: ROUSH!
2015-2016 Ford Mustang (Coupe) RPI Stage 1 Rear Blade Spoiler
An exclusive from RPI Designs, this rear spoiler installs easily enough, whether or not your Mustang has a factory spoiler. If not, a simple drill hole template is included. Expert in-house painting techniques ensure a picture-perfect match; our factory is able to match any factory Mustang tone. Please note, this popular rear blade spoiler is for couple Mustangs only, not convertibles.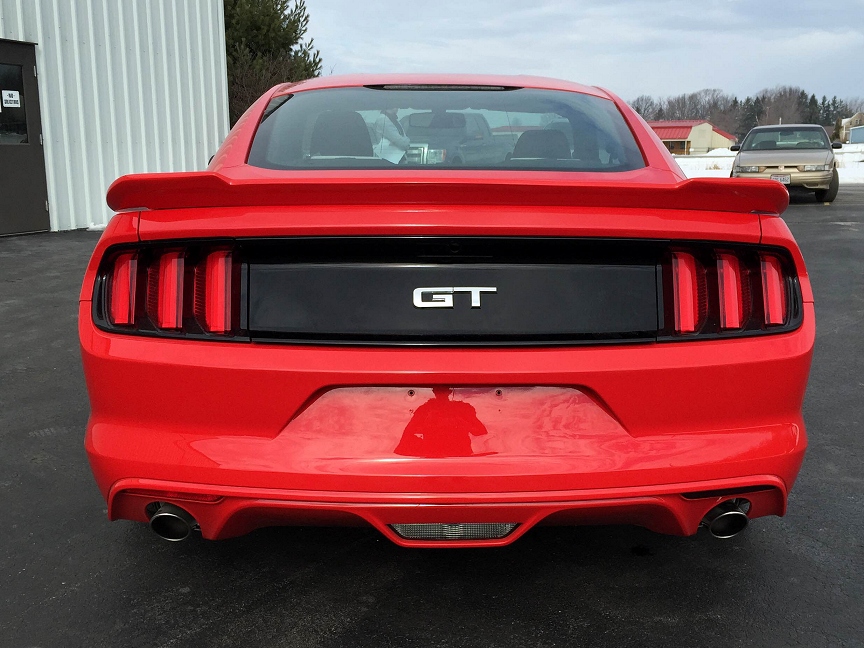 2015-2017 Ford Mustang Carbon Fiber GT 350 R Style Carbon Fiber Rear Spoiler
Premium carbon fiber construction makes this one of our best-selling Mustang rear spoilers, but that's only part of its appeal. Made by Anderson Composites, this carbon fiber rear spoiler comes in your favorite color, meticulously applied to ensure top performance and lasting quality. If you've ever experienced rattling or extra turbulence with your Mustang's rear spoiler, try this extra-rigid carbon fiber spoiler – it won't disappoint!
2005-2009 Mustang Painted Rear Ducktail Spoiler
Premium quality, easy installation, legendary CDC quality – this Mustang spoiler is one of the most popular Pony products we sell. Blow-molded ABS plastic construction ensures top-end quality, while a 3-piece design allows for a lightweight accessory and convenient installation – this is one of the few ducktail Mustang spoilers that doesn't require trunk strut modifications. If you're replacing the factory spoiler, this Mustang rear ducktail spoiler comes with an optional spoiler hole delete kit. This includes a hole filler set, so you can bypass any required repainting for your Pony's trunk. With a low profile, custom install options and affordable price tag, this painted rear ducktail spoiler is making its mark with Mustang fans all over the globe!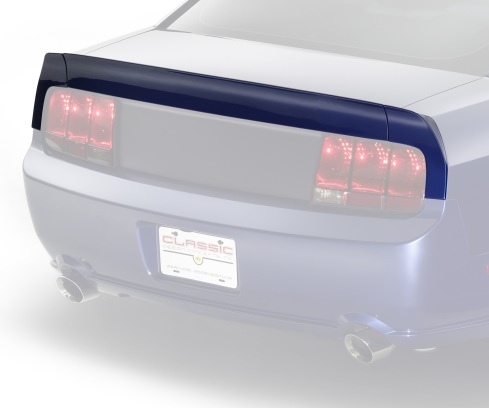 2015-2017 Ford Mustang Fiberglass GT350 R Style Rear Spoiler
Mustang owners have a soft spot for the GT350 R. Now, this legendary style of Mustang can accent your car, thanks to this exclusive GT350 R-style rear spoiler. Aggressive lines and an extra emphasis on racing attitude define this top-end Mustang exterior accessory. Plus, it's made by Anderson Composites, so you know you're getting the best possible quality, performance and value. If you have time to drill a half-dozen holes in your trunk (and who doesn't?), you'll want to own this sleek, supercharged rear spoiler.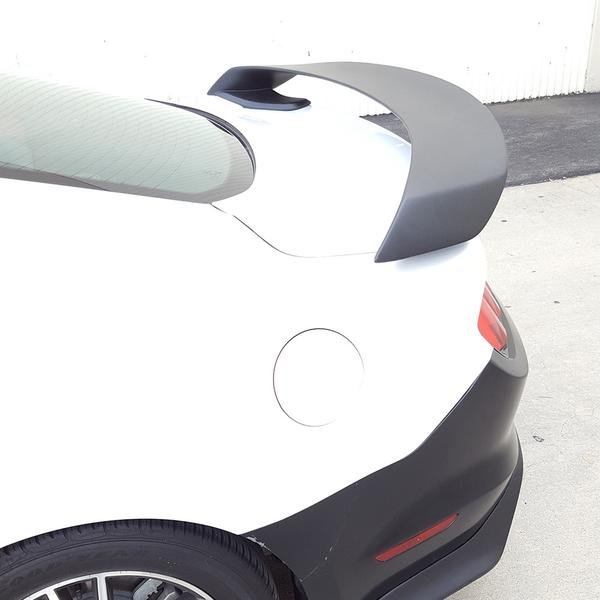 2015-2017 Ford Mustang GT Styling Smoked Solar Rear Window Wing
Not your typical wing, this smoked solar rear window wing is specifically designed for the 2015 – 2017 Ford Mustang, and provides sleek, eye-catching appeal for your Pony's rear window. Advanced aerodynamics are a given, but what makes this rear window Mustang wing so popular is its super-easy installation. It comes with 3M double-sided tape, so you have everything required for a fast, effortless install. What's more, this Mustang wing window shade deflector also offers superior visibility to your car's 3rd brake light, unlike other Mustang wing window accessories. If you're uncertain about the Mustang spoiler vs wing argument, this component provides the perfect compromise!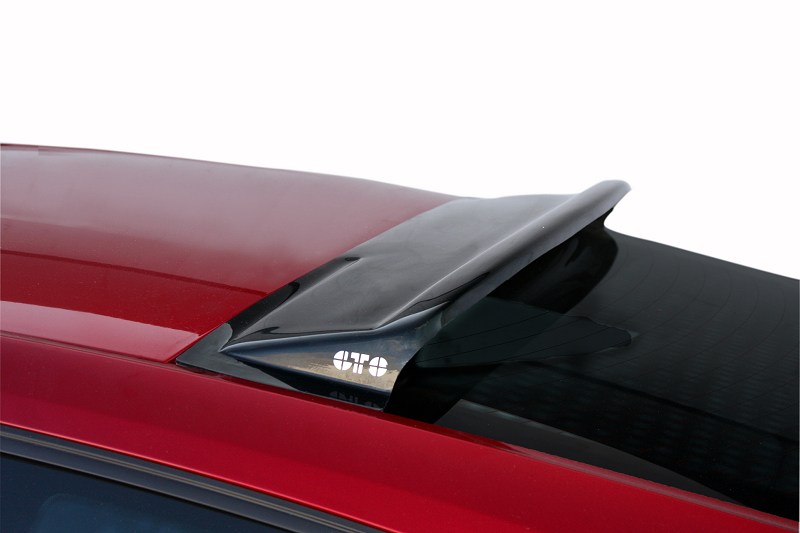 2015-2017 Mustang APR Carbon Fiber GTC Drag Rear Wing
Nothing beats a good wingman. Same goes for your Mustang. Check out this APR carbon fiber GTC rear wing. It's made to reduce drag and maximize downdraft, so you'll notice an immediate improvement with speed, handling and overall performance. If you have a low-profile Mustang, this is one of the best rear wings available on the market today, plain and simple. Ideal for any coupe Mustang, this rear wing will help your car exceed driving expectations on a daily basis – on the road or at the track!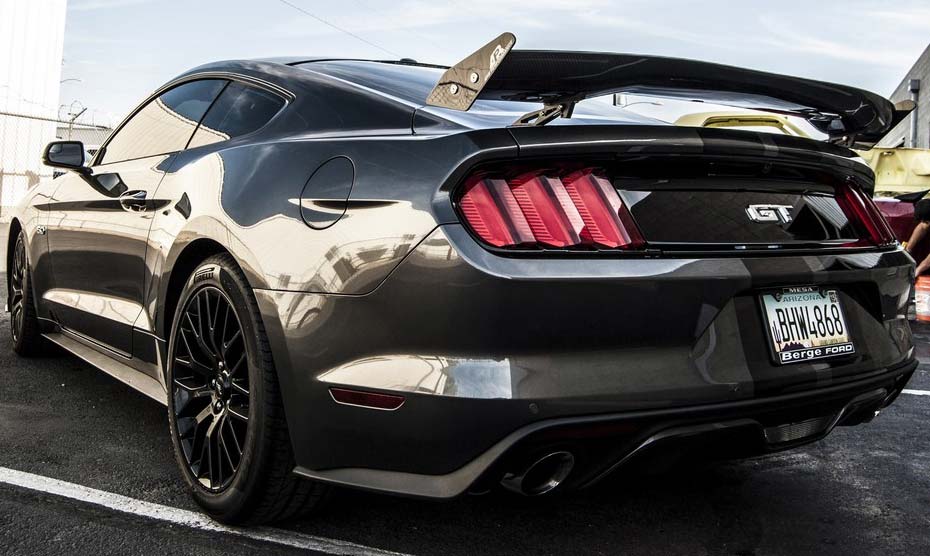 RPI Designs: Your Premier Ford Mustang Performance Parts Supplier!
We hope this information is helpful in determining which rear-side upgrade is right for your Mustang. But at the end of the day, it's all up to you. Our suggestion? Got with what you think makes your Mustang look and perform better. Regardless of your final decision, our selection, variety and value at RPI Designs offers premium aftermarket Mustang components at the best possible prices. We're just as crazy about Mustangs and other performance cars as you are – that's why we're considered one of the premier Mustang wing, Mustang spoiler, Mustang everything parts suppliers on the planet.
You can't go wrong with a Mustang spoiler or Mustang wing, especially when you order from RPI Designs. Our selection of top-performance Mustang wings and spoilers is only one part of our huge inventory of Mustang aftermarket accessories. Under the hood performance parts, interior components, brake & exhaust systems and more – whatever you're looking for, RPI Designs is the #1 place to find the Mustang parts you need.
And whether or not you pick a winner in the spoiler vs wing great Mustang debate, the selection at RPI Designs proves there are no losers in this argument – only winners! And best of all, if you can't pick between either type of exterior upgrade, it's never a bad idea to roll with both! A Mustang wing instantly elevates your Pony's profile, while a spoiler has all those aerodynamic benefits every Mustang owner loves. If you get a Mustang spoiler and wing, see if your accessories have similar mounting holes. In less than a half-hour, you can swap out your Mustang wing for a spoiler – or vice versa! RPI Designs provides all the best Mustang accessories, and our online collection of articles, videos and other do-it-yourself help content will ensure you'll get the best performance and appearance with your Mustang.
Thanks for reading the RPI Designs blog, and check back for more helpful installation tips, news about upcoming parts, reviews, news and much more! For any questions you have about a Mustang wing or spoiler (or any other part), please call our parts experts at 888.257.8515. Complete customer satisfaction is our ultimate goal!