5 Camaro Parts Worth Getting Painted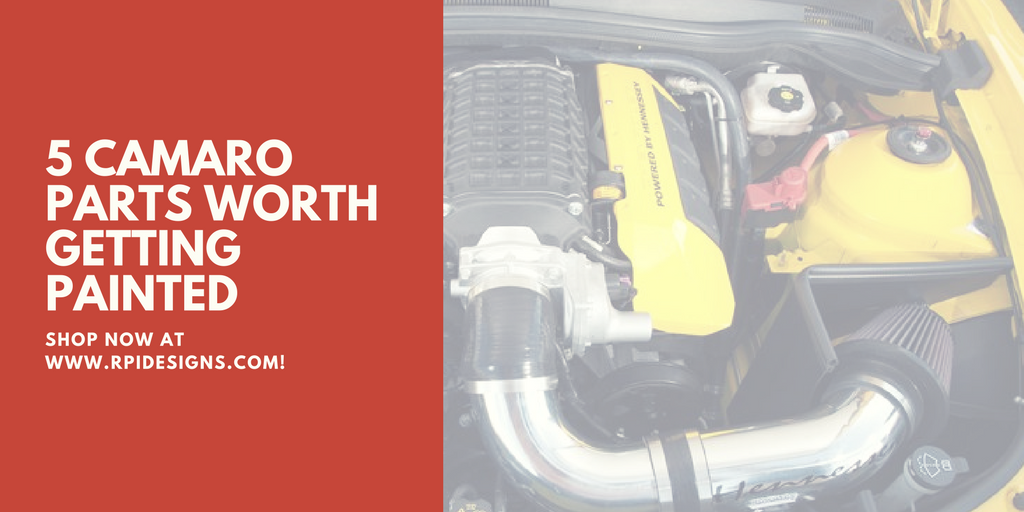 Ever since aftermarket Camaro parts became widely available, nobody can deny this fact: the colorful Camaro is preferable to an average one. Custom-painted components, premium made-to-order accessories and other parts show that customization isn't just for performance; appearance is just as important to Camaro owners.
What makes custom-painted Camaro parts so popular?
Infinite color combinations. If you think your yellow Camaro needs a red fuse cover box, good luck getting that color combination from the factory. But with aftermarket painted Camaro parts – and many of your favorites are available right here at RPI Designs – you can literally customize your car down to the smallest detail!
Quality parts, colorful appearance. Bright, vibrant colors are only part of the popularity equation for painted Camaro parts. Camaro owners care about quality and durability, not just color. With reputable and reliable sources like RPI Designs, all of your most sought-after painted parts are also constructed to stand the test of time. Many of our Camaro accessories are custom-painted to order, so you know each one receives the attention to detail you deserve. Quality, color, comprehensive selection – these are just some of the reasons why Camaro enthusiasts rely on RPI Designs for all of their exterior and interior painted parts.
Engine and brake system protection. Many custom painted Camaro parts – particularly for your engine and brake components – offer an unexpected performance advantage. Let's take the caliper, for example. This part of your Camaro's brake system is subject to a host of external foreign objects – brake dust, road debris, snow, ice, sleet, salt, you name it – and adding a dose of style with a premium Camaro caliper cover set helps protect your brake system. Enhanced safety characteristics, better protection, superior performance – sometimes, added style offers a whole lot more than meets the eye! Painted Camaro parts
5 Painted Camaro Parts from RPI Designs
Painting your own Camaro parts is a great do-it-yourself project, but RPI Designs has already done the work with many of our painted Chevy components. Here are five parts that our customers can't do without:
2016-2017 Camaro Black Front and Rear Bowties
Picture-perfect Chevy style starts with the auto's legendary logo. And few Chevys can match the Camaro's racing heritage. This Camaro front and rear bowtie logo emblem set embodies everything you love about your car. These painted Camaro parts are done right; they're genuine OEM Chevy accessories. So right off the bat, you know you're getting premium quality. But what sets these Camaro components apart from the rest is ultra-easy installation. The rear bowtie logo is secured with included 3M tape, while the front logo is attached with clips. Within a matter of minutes, your Camaro is given a lasting look. In terms of value and ease of installation, this is one of the most popular painted Camaro part kits available at RPI Designs.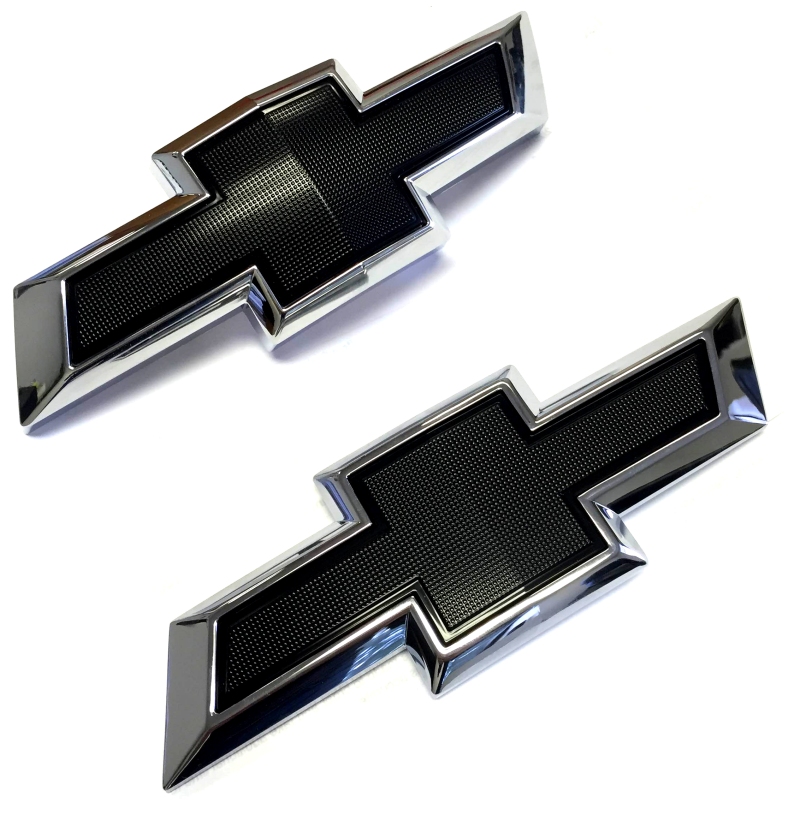 2016-2017 Camaro 6th Generation Custom Painted Lower Grille
When it comes to premium painted Camaro parts, this custom-made lower grille takes the checkered flag. Both the inner and outer portions of this grille can be customized with your preferred color. Or, make 'em match, if that's your preference.  Designed to fit your 6th generation Camaro like a glove, this grille is the perfect accessory for that streamlined & aggressive appearance. And with so many color options, you're bound to find one (or both) you like – the hardest part is deciding which ones will go on the front of your Camaro!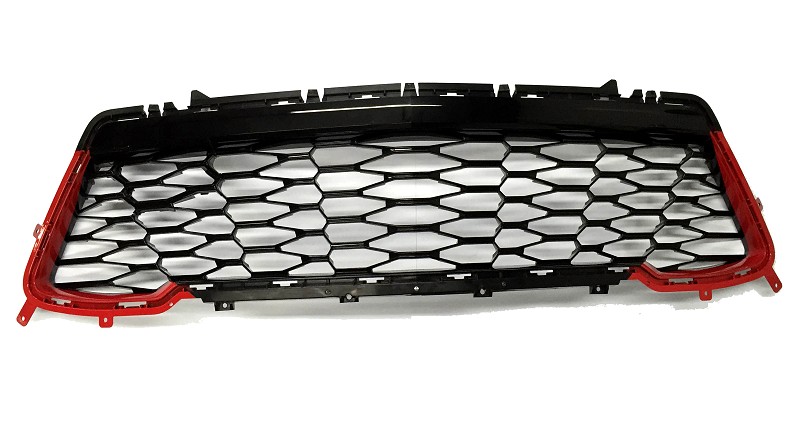 6th Generation Camaro Custom Painted Engine Fuel Rail Covers
Let's head under the hood for more painted Camaro part fun. These premium painted engine fuel rail covers supply a bold look, bright color and a professional, polished appearance for your next auto show entry. But they're also ideal for everyday use. Hand-painted perfection goes into each letter (artisans are jealous of our quality standards), while the fuel rail base color is available in any Camaro tone. Each fuel rail cover boasts a sleek yet durable Smoothie finish. Just pick your base and lettering colors, and your Camaro engine will never look the same!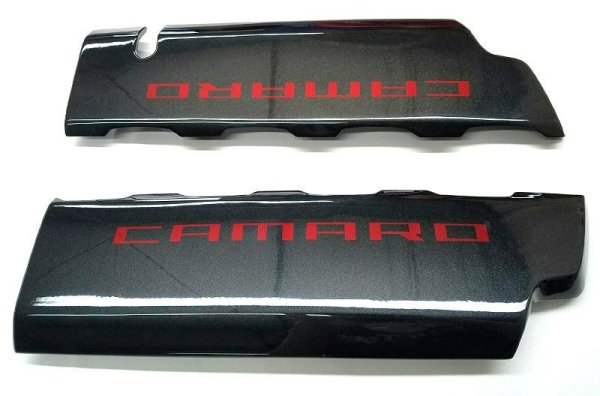 6th Generation Camaro Custom Painted Engine Plenum Cover
OEM quality. Hand-painted attention to detail. Premium finish options. This engine plenum cover makes a must-own replacement for your factory Camaro component. This official Chevy aftermarket part is available in more than a dozen color options, and completely replaces your existing plenum cover. If you're looking for a comprehensive engine enhancement that's easy to install, get one today!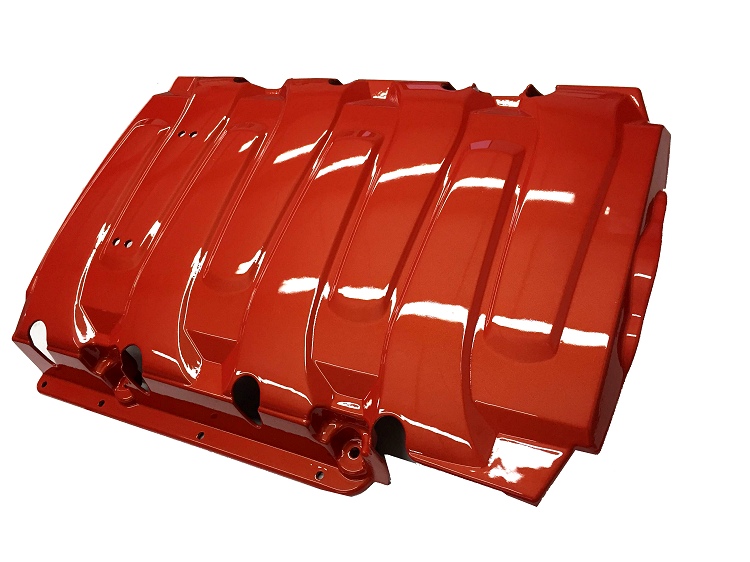 Camaro Painted Caliper Covers
We mentioned these at the beginning of the article, and they're worth revisiting. This popular caliper set from MGP features easy installation, proven brake dust protection, stress-tested performance and much more. Plus, you can have them etched with RS, SS or Camaro lettering. Premium protection, personal style – this painted Camaro caliper set offers it all! From car shows to riding the open road, these caliper covers deserve strong consideration as part of your next mod.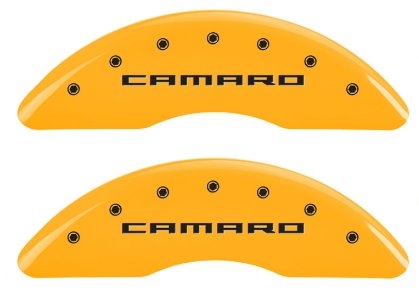 Our painted Camaro parts at RPI Designs feature outstanding quality, reliable performance characteristics and – of course – a rainbow's worth of custom color options. Camaro owners have made RPI Designs one of the most popular painted Camaro part outlets in the United States; from custom auto body shops to dealerships, RPI Designs always delivers on our core promise: to provide performance car enthusiasts the best aftermarket parts at the lowest possible price. It's a formula that's helped us become a premier parts supplier for the Camaro, Challenger, Mustang, Corvette and other popular cars.
Experience the difference at RPI Designs. If you're preparing to upgrade your Camaro with custom painted components, browse our entire inventory today. Under the hood, around back and everywhere in between – no matter where your Camaro needs color, we have what you're looking for.
For any questions about our painted Camaro parts, please give our Chevy parts experts a call at 888.257.8515. From small projects to major overhauls, we have the inventory and expertise to ensure your next Camaro modification is successful!