Installing a C7 Corvette Stingray Rear Spoiler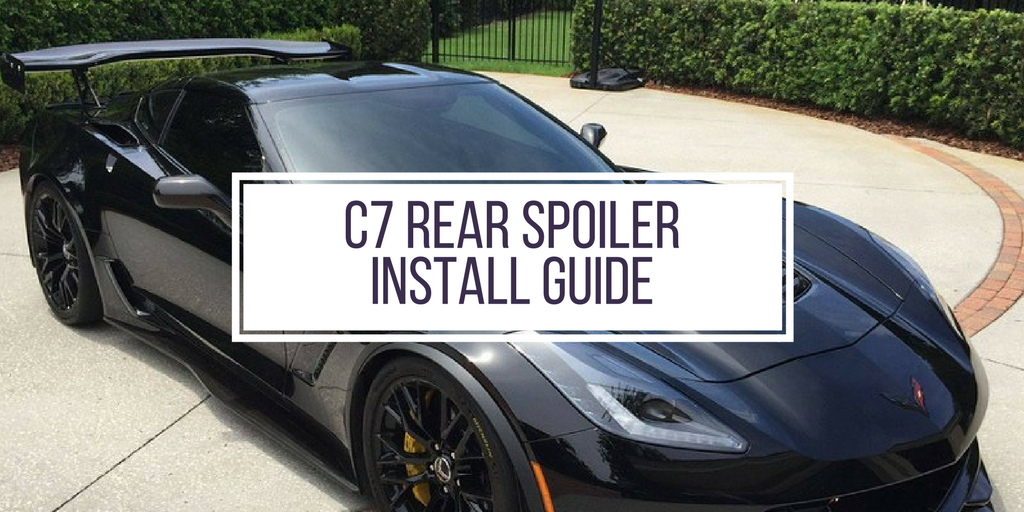 Sometimes, the C7 Corvette Stingray saves the best for last – take the rear spoiler, for instance. Although it's located on the rear of the car, there's no denying it can make your Vette jump to the front of the line at car shows, on the road and practically every place in between.
RPI Designs offers a premium line of the best Stingray rear spoilers available anywhere, including accessories from APR Performance. With a strong yet lightweight design, all Stingray rear spoilers (Z51, Z06, etc.) have carbon fiber construction, aggressively designed details and everything you need for a flawless DIY installation.
A rear spoiler for your Stingray doesn't only look great; it also adds optimal aerodynamic characteristics, too! If you're ready to install your own C7 Corvette Stingray rear spoiler, you've come to the right place…read on!
Stingray Rear Spoiler Installation
If your C7 Corvette Stingray already has a rear spoiler, installation is as easy as it gets. Simply remove the existing spoiler and install the new one. APR Performance spoilers have all of the Corvette's mounting holes, precisely placed for a perfect fit. You can keep the original hardware, or use the bolts provided by APR Performance.
For Stingrays without a factory rear spoiler, you'll have to drill mounting holes. Just make sure you secure the template with some temporary tape. Once the mounting holes are drilled (a 5/16" drill bit should do the trick, but always refer to your specific installation instructions), position the spoiler in place and hand tighten the hardware. If everything is aligned, go ahead and secure the hardware with a ratchet or screwdriver.
Both types of C7 Corvette Stingray installations should include a quick test drive to make sure the spoiler is mounted correctly. If it's not, you'll know due to rattling or turbulence. For any adjustments, tighten all hardware flush. Don't over-torque the bolts, as excessive force can damage your Stingray's frame and the spoiler.
APR Performance Stingray spoilers are some of the top-end Corvette exterior components you'll find at RPI Designs. Designed to perform better than their original factory counterparts, all of our C7 Corvette Stingray exterior accessories feature custom-made quality, exceptional value and a money back guarantee.
For more information on RPI Designs, or for help locating C7 Stingray parts, please call us at 888.257.8515. Check out our C7 Corvette Stingray exterior accessory hub page for more installation tips and tricks.