Installation Guide: Exterior Parts for C7 Corvette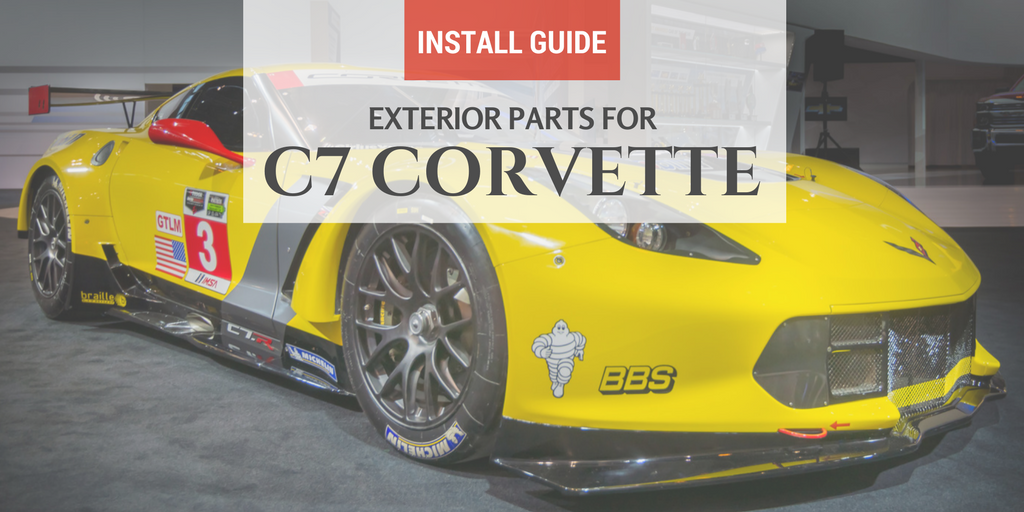 Under the hood, the C7 Corvette Stingray is tough to beat. The Stingray's impressive performance attributes make it one of the most popular cars on the road, but its under-the-hood ability isn't the only reason. The C7 Vette provides mod enthusiasts with creative, classy and uber-cool exterior parts and accessories to really set the Stingray apart from every other car! RPI Designs is one of the world's premier providers of high-performance, custom-made C7 Corvette Stingray components.
Why should you consider upgrading your C7 Corvette Stingray with premium exterior parts and accessories from RPI Designs?
Better performance. Sleek, streamlined exterior mods can provide superior aerodynamics, optimal handling and more.
Showroom style. With the right exterior additions, your Stingray is always ready to show off.
Unbeatable prices. RPI Designs offers top-end C7 Stingray exterior accessories from the top manufacturers, all at the best possible value.
Expert support. Our online knowledge base is ideal for anyone who loves their Stingray, from amateurs to seasoned technicians. We'll provide you with the best possible Stingray parts, and we'll also follow up with the advice and know-how you deserve.
As part of our accessible and always-available support, this page is Stingray Central for all things related to exterior part modifications. Add-ons, mods, minor tweaks, major projects – if it involves exterior parts for the C7 Corvette Stingray, you'll find it here.
Our C7 Stingray experts asked everyone from professional technicians to DIY Stingray fans which exterior part mods we should feature. Since the Stingray is so popular, the response was pretty much, "All of the above!"
Sounds about right…so we're just going to keep growing this C7 Corvette Stingray hub with the most popular, most frequently requested exterior part mods! The Corvette DIY nation is always expanding, so why not just expand our installation tutorials right along with it?
Check out these C7 Corvette Stingray exterior accessory installation guides:
The perfect complement to a front splitter upgrade, wheel spats bring a bold, buttoned-up look to the C7 Corvette Stingray. And with carbon fiber, high-gloss finish, they're a definite upgrade from the Stingray's factory-provided plastic components.
Sure, your C7 Corvette Stingray has bumper-to-bumper excellence – but what about side-to-side? If you're looking to add some snazzy side skirts to your Vette, check out this helpful installation guide.
Spoiler alert: this accessory will take your C7 Corvette to the next level, and it's much easier than you think, thanks to no-nonsense installation techniques and top-quality parts from RPI Designs.
Trouble finding a particular C7 Corvette Stingray component? No worries…our Corvette parts experts can help! Just call our office directly at 888.257.8515. Thanks for stopping by our C7 Corvette Stingray exterior parts hub – check back for more updates, info and how-to tips & tricks for your favorite Vette mods!