How to Install Side Skirts on a C7 Corvette Stingray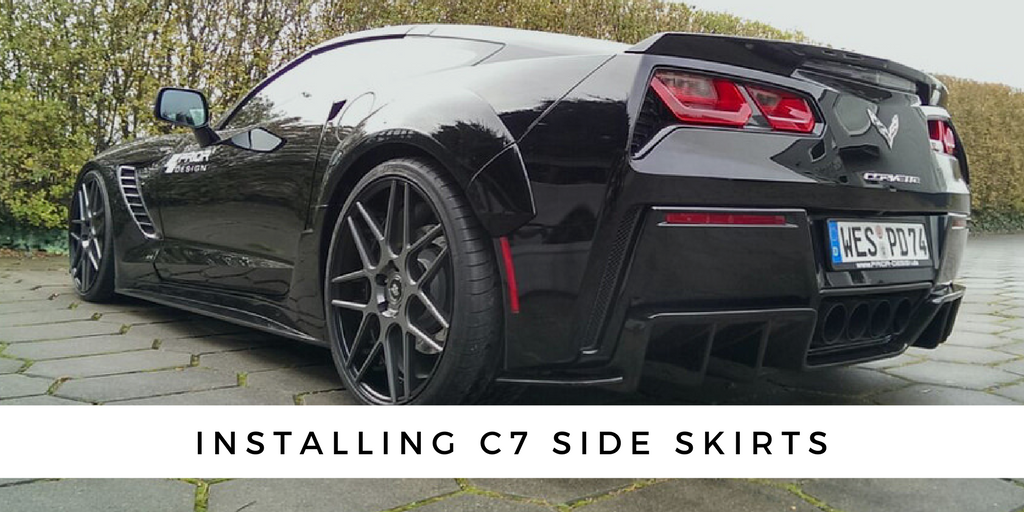 Reduced drag, optimal aerodynamics, aggressive styling – side skirts on your C7 Z06 Corvette Stingray are one of the best ways to instantly upgrade your car, from both performance and appearance standpoints. Perfect as a stand-alone modification, side skirts also work well as a complement to front splitters, side vents, rear spoilers and more.
Installing side skirts on a C7 Z06 Vette is one of the most popular modifications for Corvette DIY enthusiasts. You don't need a ton of time, and no special tools are required.
Plus, when you purchase your C7 Corvette Stingray side skirts from RPI Designs, you'll get the highest-quality components and customized colors, so integration is easier than ever. With our custom-made side skirts backed by a money-back guarantee, there's simply no better option for upgrading your Stingray today. And with our easy to follow installation instructions, you'll save costly repair expenses, too!
Side Skirt Installation Process
Before starting, see if you have a buddy with some extra time. Since C7 Z06 side skirts span your car from front to back, having an extra set of hands will help stabilize the side skirts during installation. Total installation time is usually less than an hour. 
Tools required:
1/8″ drill bit
Phillips screwdriver
7 mm ratchet
Step-by-step instructions:
Safely lift Stingray with hydraulic jack and jack stands
Remove splash guard end screws (one on front wheel well, one on rear wheel well)
Position side skirt underneath splash guard
Line up side skirt from front to back
Hand-tighten end screws to secure splash guard with side skirts
Drill remaining mounting holes (there are 13 holes per side skirt)
Secure remaining bolts into drilled holes; hand-tighten to ensure proper alignment, then install permanently with ratchet and / or screwdriver.
Take your car for a test drive and check for any noises, shimmies, turbulence, etc.
With your side skirts in place, your Corvette Stingray will enjoy:
Decreased lift tendencies
Improved underbody airflow
Minimal turbulence
Better handling
Showroom appeal
What's more, your C7 Z06 will command even more attention than before. What are you waiting for? Get started with your C7 Corvette Stingray side skirts installation today! Our side skirts comprise one small part of our entire Vette exterior parts inventory. If you can locate the C7 Z07 exterior part you need, contact us today! Give our parts consultants a call at 888.257.8515.