How to Blackout Your Camaro
Colorful Camaros are part of the American sportscar landscape. From bright red to vibrant yellow and practically every color in the Crayola box, both stock and souped-up Camaros never disappoint in the exterior appearance department.
Recently, the preferred Camaro color has taken a turn toward the dark side. We don't mean anything sinister, of course…we're talking about the blackout.
Like other popular sportscars, the Camaro is part super-cool automobile, part blank canvas. Car heads have long prized the Camaro for its modify-friendly features, and lately, that focus has turned toward the car's exterior appearance.
"Blacking out" cars is nothing new – the phenomenon has been around for over a decade – but the process has recently skyrocketed in the past few years. Some Camaro owners are content with a "part blackout," targeting specific components. A "total blackout" – windows, grille, wheels, the whole nine yards – involves a bit more time (and money), but is more popular than ever. Many Camaro owners push for a complete and total absence of color, even down to the interior!
RPI Designs carries a complete line of blackout accessories for 5th generation Camaros (model years 2010 – 2015), which we'll review in a moment.
Popular Camaro Blackout Products
There are as many ways to blackout your Camaro as there are visible exterior components. Front grilles, manufacturer emblems, windows, whole-body paint, side mirrors and more – if it can change color, it's available for blackout mode.
Here are some of the most sought-after blackout Camaro car accessories available at RPI Designs:
This kit covers all 4 tail lights for 2010 – 2013  Camaros. Crafted from durable acrylic, these quality components are a hit with Camaro blackout enthusiasts. They're easy to install and come with everything necessary for a hassle-free installation. The included 3M clear VHB tape provides seamless installation and, once in place, is impossible to detect. If you're looking to blackout your Camaro's back end, this is the way to go!
The fog lights are one of the last Camaro parts to get the blackout treatment – why not take care of them right away? These lights are made of extra-rugged ABS plastic, which has a decided advantage over typical vinyl blackout fog light covers. They're designed to handle the constant debris (rocks, pebbles, bugs, etc.) that fog lights typically endure. Laser-cut for a precise fit, this fog light blackout kit comes complete with a high-gloss shine. And best of all, installation is a breeze; in less than 10 minutes, you can have both Camaro fog lights blacked out. Removal and re-installation is also super-easy.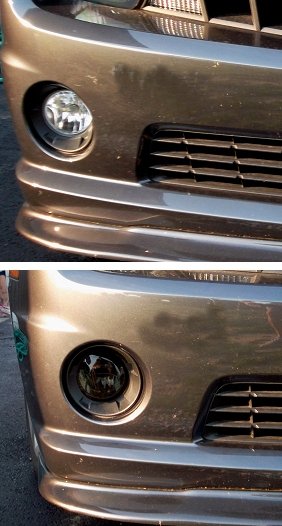 A touch of contrast can make a Camaro blackout even more stylish. That's the idea behind this cool product, which proudly displays the legendary Chevy logo. This clear acrylic insert is punctuated with perimeter LEDs, which brings a bold  new look to any Camaro – particularly a blackout Camaro! A handful of colors are available, and each one complements any blackout Camaro. What's more, this LED rear bowtie accessory can also be utilized as a brake light! A special wiring circuit is available for this option. Regardless of your color choice, this is one exterior accessory that's hard to pass up.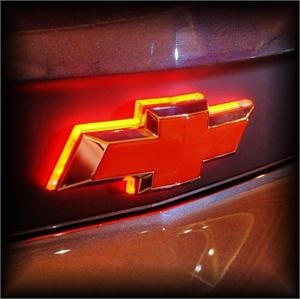 Camaro Side Marker Blackout Kit
One of our most popular modifications for the fifth-generation Camaro is adding a set of blackouts. Our 2010 – 2015 Camaro side marker blackout kit is built from the highest quality materials available on the market. By utilizing our in-house laser we are able to create precision and stunning pieces that look and fit as if they were factory from Chevrolet.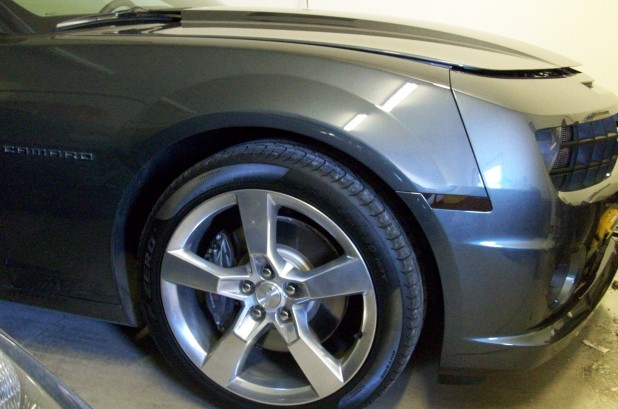 Another Way to Blackout Your Camaro – Just Dip It!
A popular product called Plasti Dip is used by many Camaro owners to blackout all sorts of car accessories. Essentially a peelable paint, Plasti Dip coats everything from original body paint to alloy wheels. Used in tandem with the Camaro blackout products from RPI Designs, Plasti Dip is worth a second look from any Camaro owner looking to go the extra mile – or an extra shade darker!
If you can't find a blackout Camaro component on our website, give our parts experts a ring at 888.257.8515. We'll help find that final accessory to help completely blackout your Camaro – and keep checking back with our ever-growing inventory, as we're always adding 5th generation Camaro parts.