Increasing Horsepower with an Exhaust Header Swap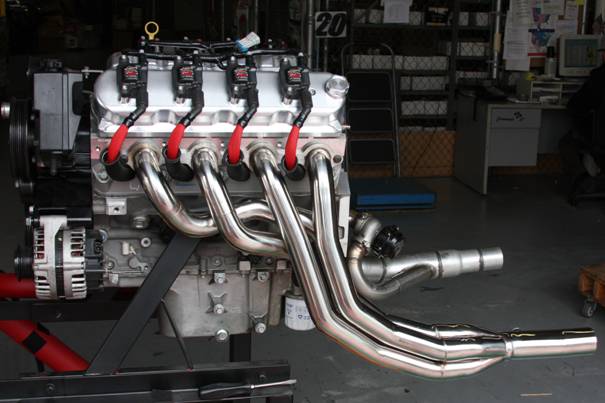 If you want to squeeze every last drop of horsepower out of your Chevy Camaro, an exhaust header swap is always a good idea. You need more than a modicum of experience under the hood (actually, under the car), as this project requires at least an intermediate-level knowledge.
Before we look at how to install Camaro exhaust headers, it's worth revisiting the numerous advantages of this popular DIY project. With an upgraded set of exhaust headers, your Camaro will enjoy:
Superior exhaust gas flow. Camaro headers (and all other high-performance exhaust headers) have pipes bent and cut in such a way that each exhaust header pipe is exactly the same length. This ensures that the gas from each cylinder arrives for expulsion at the same time. So why is that so important? We're glad you asked! It's because…
Less manifold back pressure. Without excessive back pressure from your Camaro's exhaust manifold, your exhaust system efficiency eliminates and removes gas pressure buildup. Essentially, less manifold back pressure equates to more power and torque from your Camaro's engine. Some Camaro header upgrades are responsible for up to a 20-30 HP increase!
Better sound. Once you hear a Camaro roar with high-performance exhaust headers, you know. There's a distinct change in exhaust acoustics – namely, a deeper, more powerful sound from the Camaro exhaust system. Sure, the increased efficiency and extra HP are awesome, but who doesn't love that unique hotrod sound generated by newly installed Camaro headers?
These are just a few ways a header swap can boost your Camaro's performance. If you're ready to get started, keep reading!
How to Install Camaro Headers
Time: plan for about 3 hours to install your Camaro headers.
Tools:
Deep socket set with ratchet (metric and standard)
Standard open-end wrench set
Anti-seize compound
Zip-ties or mechanic's wire
Sawzall saw
Torque wrench
Auto-lift jack and jack stands (or ramps)
Header installation procedure:
Before getting started, disconnect the positive battery terminal, located in the trunk. Also, remove the spark plug wires and passenger-side oil dipstick.
Remove exhaust manifold bolts on both engine sides. Do not discard bolts and gaskets.
Remove wiring harness plug on rear of each cylinder head. Disconnect oxygen sensors by sliding down plastic notches.
Safely lift Camaro with jack and secure with jack stands or ramps.
Remove wiring harness plugs on both back O2 sensors.
Remove steering shaft, located adjacent to steering rack.
Depending on your header installation type (factory muffler or aftermarket catback exhaust system), either cut rear muffler pipes to remove midpipe, or remove exhaust flanges to remove midpipe.
Remove both exhaust manifolds, then disconnect O2 sensors.
Install O2 sensor harnesses on rear of cylinder head (mentioned in step #2).
Place headers in position for installation with zip-ties, mechanic's wire or similar device.
Install original metal gaskets and use bolts (from step #1).
Re-install oil dipstick and spark plug wires
Install new header midpipe. Note: for aftermarket catback headers and exhaust, adapter pipes may need to be cut with Sawzall to align with existing components.
Check to make sure newly installed components align correctly, and that your new Camaro exhaust headers have enough clearance.
Tighten all loose bolts on flanges, clamps and other connectors.
Re-install O2 sensors with anti-seize compound.
Re-install steering column.
Take your Camaro for a test drive and check for exhaust leaks. If you hear excessive noise or rattling coming from exhaust system, tighten all bolts and flanges as required.
RPI Designs: The #1 Source for Camaro Header Upgrades
RPI Designs offers a complete line of Camaro exhaust header parts and accessories, all at exceptional prices. Our complete exhaust systems include superior custom-made components from some of the most popular manufacturers like Corsa, Magnaflow, Borla and many others.
For any questions you have about your DIY Camaro exhaust header upgrade, give our parts consultants a call at 888.257.8515. We look forward to hearing from you!