Stainless Steel Polishing Kit
Most modern performance sports cars either have a factory or aftermarket exhaust system with stainless steel tips exiting the rear of the car.  If you happen to be lucky to own one of these cars you will soon discover that with driving them the stainless steel polished finish starts to lose that brilliant finish it once had.  RPI Designs realizes that our customer would like to get that shine back that they once had so they offer a Stainless Steel Polishing Kit .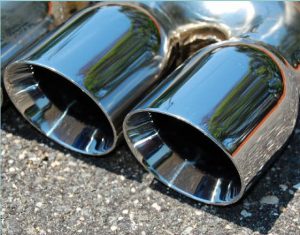 The Stainless steel polishing kit is available in three different kits, depending on the condition of your stainless steel that you will be polishing.  The Three kits are listed below with the items that they include. The  basic kit which is designed for most people that have stainless steel that is new or just needs some minor polishing will need to get includes the following.  A 4 inch High-Quality Mushroom Buff w/ drill adapter with 2 Special buffing compounds, A supply of Simichrome polish, 2 Special maintenance cloths.  The deluxe kits which is designed for tougher polishing jobs or to hanlde multiple vehicle includes  everything in the basic kit plus a  2″ Taper Buff w/drill Adapter and  a larger tube of simichrome.  The super deluxe kit will give you all of what is included in the basic and the deluxe kit plus an additional 4 inch High-Quality Mushroom Buff and a 2″ Taper Buff.  The Simichrome polish that is included in the kits is considered to be one of the best polishes available by the automotive industry.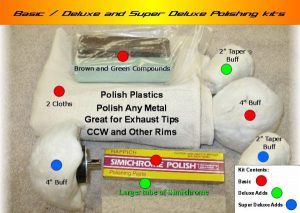 No matter which kit you chose you will find the system will work to bring the Stainless steel on your car to a brilliant finish.  Each kit comes with detail instructions with illustration and once the tips are polished you will see keeping them maintained is simple.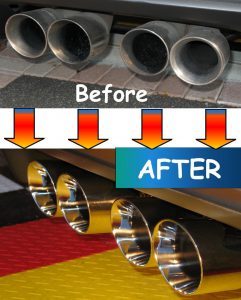 So if you are tired at looking at those dull stainless steel tips on your sports car you need to get this Stainless steel polishing kit from RPI Designs.