Installing a Camaro Rear Spoiler and Front Splitter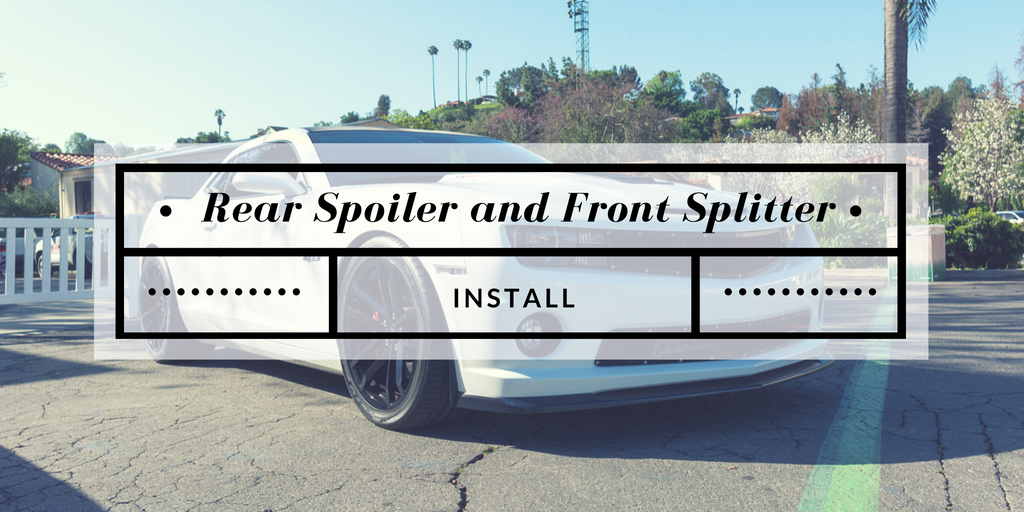 For bumper-to-bumper upgrades, nothing tops a 6th gen Camaro rear spoiler and front splitter modification. RPI Designs offers this complete kit for your Camaro, available in your preferred color. The rear spoiler and front splitter are hand-crafted for meticulous attention to detail, and represent the very finest exterior Camaro accessories available anywhere.
The best thing about a rear spoiler and front splitter upgrade? It's a great way to enhance your Camaro's appearance and performance, all at once! The rear spoiler improves aerodynamics, while the front splitter creates a considerable downforce, thus improving handling and overall control.
RPI Designs can help with your DIY rear spoiler and front splitter upgrade – we'll supply the best parts, and we'll also show you how to do it!
Rear Spoiler
Line up paper template edge to edge, secure the template with tape, and mark the holes accordingly. With a 5/16ÔÇØ drill bit, drill the mounting holes. Line up the rear spoiler studs into the drilled mounting holes, then secure the spoiler from the inside of the trunk lid with nuts. Done – enjoy it! Check out our rear spoiler install video for more information on what tools to use and other expert advice. Our rear spoiler comes with a paper template for expert alignment and ultra-easy mounting configuration.
Front Splitter
For the front splitter upgrade, it helps to have a buddy hold one end of the splitter for proper alignment. Stock 6th gen Camaros already come with pre-drilled holes for your splitter, so it easy to align and secure. Pro tip: hand-tighten the screws to ensure proper alignment, then torque accordingly with your socket set. For step-by-step instructions and details, see our front splitter installation video:
Thanks for stopping by the RPI Designs DIY garage. For more help, or to locate any 6th gen Camaro parts you can't locate, just give us a call at 888.257.8515. We look forward to helping you upgrade your Camaro today!