2015-2017 Ford Mustang Painted Stage 1 Rear Spoiler
With the release of the 2015 Ford Mustang it was obvious that Ford had upped their game on cutting edge design and performance with this new model.  However with this new Mustang a lot of them were built with no spoiler and even the optional spoiler is so small that no down force would be applied to the rear of the car. RPI Designs saw that there was a market for Mustang owners looking for a more aggressive spoiler than the factory has to offer.  With this in mind RPI Designs created the 2015-2017 Ford Mustang Painted Stage 1 Rear Spoiler.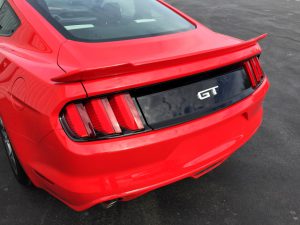 The RPI Designs Ford Mustang Stage 1 Painted rear spoiler is a direct bolt onto the  2015-2017 Ford Mustang (Coupe only) cars that already have an existing rear spoiler.  On cars with no spoiler from the factory you would need to drill some holes and attach it to the trunk lid.  Installation of this spoiler is very straight forward for RPI Designs provides a template to show you where the holes have to be drilled.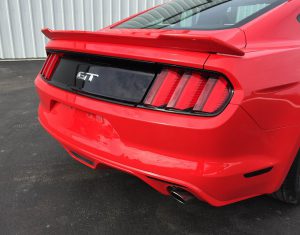 This unique spoiler is manufactured and painted in RPI Designs state of the art painting facility to a factory finish.  With the aggressive look of this rear spoiler you will not only get a great looking Mustang but it would also help with some high speed stability on the rear of your car.
These spoiler are custom painted to order so please allow some extra time before shipping.  But before you know it you will receive your RPI Designs stage 1 painted rear spoiler and  will discover what the factory has left off the 2015-2017 Mustangs.  It will give your Mustang Coupe that aggressive look and handling that you wanted and more.