Corvette Style: Carbon Fiber vs. Painted Parts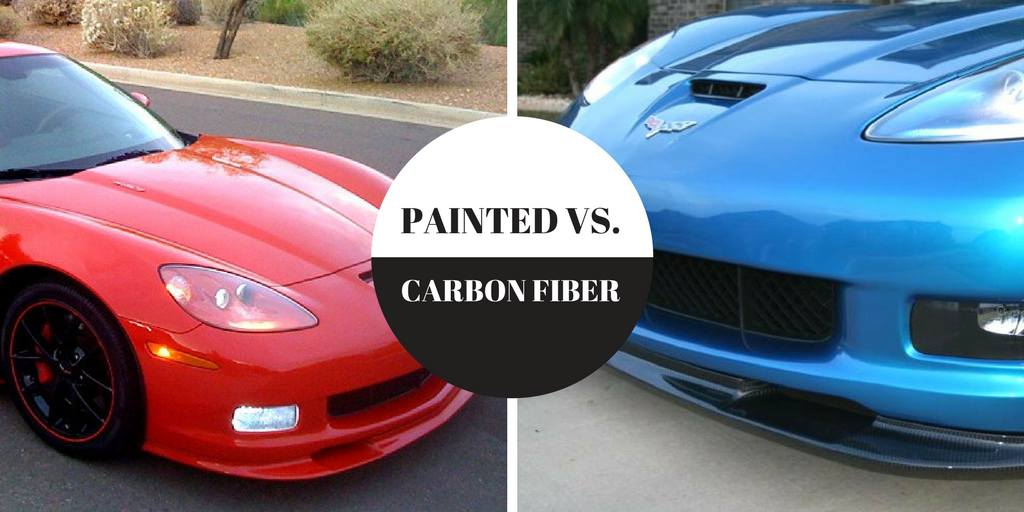 So you're finally ready to give your Corvette that much-needed upgrade. You've set aside the time, you know what exactly what needs to be done, and you're all set.
Just one final question: should you go with carbon fiber components or painted Corvette parts?
So much for getting started right away! Depending on your personal preference, that might not necessarily be an easy question to answer. RPI Designs offers a great selection of both carbon fiber parts and painted accessories for the Corvette; our inventory covers practically every square inch of your Vette. We have both types of components (painted and carbon fiber) for the sleek C5 (1997 – 2004), the popular C6 (2005 – 2013) and the contemporary yet classic C7 (2014 – 2017).
But which type of part should you include with your next do-it-yourself Corvette project? With RPI Designs, you can include both!
Let's look at some different types of custom painted parts, along with a few popular carbon fiber Corvette components.
C5 Corvette Painted SLP Rear Spoiler
A rear spoiler isn't all about looks; the right spoiler can also make your Vette perform better, too. A rear spoiler provides superior traction, better aerodynamics, improve fuel efficiency and also promote stable braking performance. Oh, and it also looks great, too! One of our most popular C5 accessories is this painted SLP rear spoiler, made from OEM-quality material. It also includes everything required for a professional, polished, perfect installation!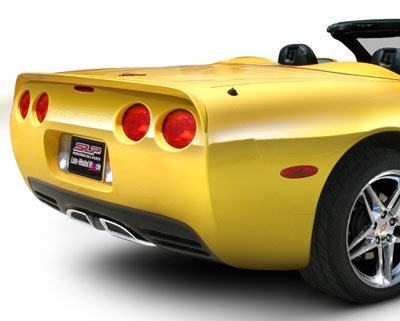 Carbon Fiber Z06 Style Corvette Stingray Side Skirts
If you're looking to add an aggressive edge to your Corvette, check out this set of carbon fiber side skirts. Designed to match your Corvette's exterior trim or base color, they're crafted from ultra-durable carbon fiber for long-lasting performance. Ideal for standing out in the showroom, these side skirts will also set your Vette apart out on the open road, too.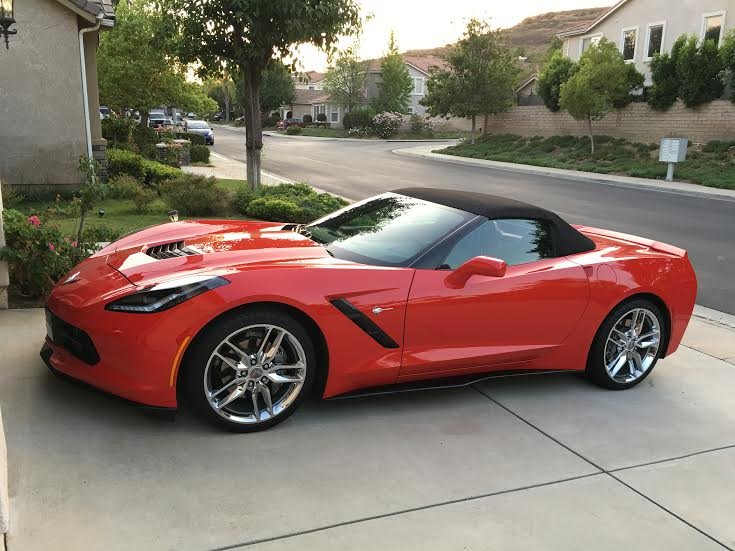 ZR1 Style REAL Carbon Fiber Front Splitter
A favorite among C6 Corvette enthusiasts, this carbon fiber front splitter includes all the required mounting hardware, quality construction, and – if you're planning on taking your Vette to the track – a retaining brace for extra stability. And of course, with rugged carbon fiber material, this splitter will be prized accessory for years to come!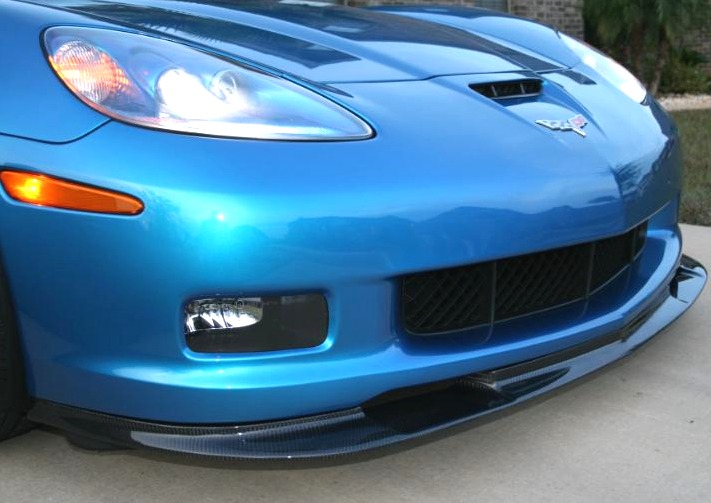 C7 Corvette Stingray Painted Body Color Fuel Rail Covers
Let's head under the hood for another custom-painted component: painted fuel rail covers. Getting your Corvette ready for the next car show requires a custom touch – and these rail covers come in over 20 colors. Plus, they're available in Standard or Smoothie finishes.
Corvette Body Color Painted Caliper Covers
When it comes to custom painted Corvette parts, many mod enthusiasts focus on the exterior body. But don't forget about the wheels! Painted caliper covers, matched to your Vette's overall body color, are a great way to add style and substance to your vehicle. RPI Designs sells an exciting array of caliper covers, including this popular 4-piece set. They're made from durable aerospace-grade aluminum, help reduce brake dust, offer easy installation and come in a wide range of both base and lettering colors. If you have a C6 Corvette and you're looking to bring a fresh look to your car, these Corvette custom painted caliper covers (made for the C6 Corvette Base Coupe, Z51, Grand Sport, Z06, ZR and Convertible) are an absolute must-have accessory!
C7 Corvette Wheel Arch Moldings
From APR Performance, these Front Fenderwell Extensions & Spats bring unexpected flair and enhanced low-profile dimension to your C7 Corvette. And while the appearance upgrade is exciting, you'll love the improved performance characteristics, too. These wheel arch moldings increase downforce pressure, reduce drag in the wheel wells and help improve traction on the regular road or race track. Plus, carbon fiber construction means they're rugged enough to tackle any challenge. A high gloss clear coat finish completes the look.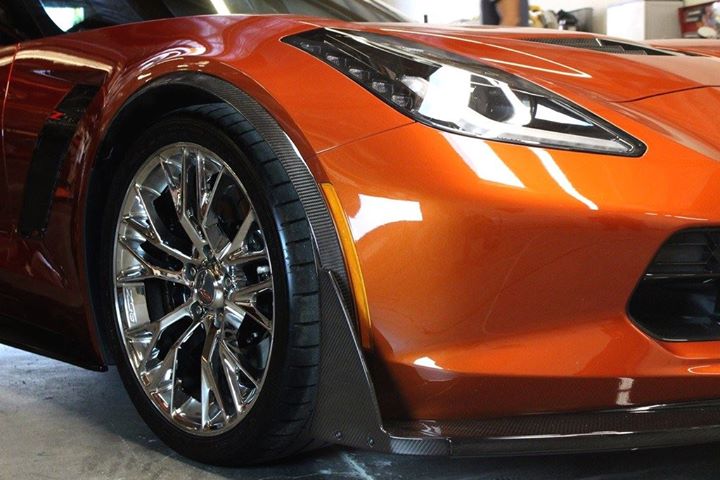 C6 Corvette Painted Battery Cover
If your Corvette has plenty of painted parts – both exterior and under-the-hood accessories – the battery is one area that usually gets ignored. And as one of the engine's largest areas, the battery can be a "black hole" of sorts. But not any longer! This C6 Corvette battery cover provides a splash of color under the hood. Great for car shows and other exhibitions, it can also help protect your battery from dust, dirt and debris. Easy Velcro attachment and a sleek glass-like finish add extra value to this essential under-hood painted part. 
Mix & Match Painted Parts & Carbon Fiber Components
If you still haven't decided if carbon fiber or painted parts are best for your Corvette, why not enjoy the best of both worlds? With so many accessories available – especially at RPI Designs – you can always mix & match both types of components. For example, if you're looking for extra ride stability AND a stylish new look under the hood, try a set of carbon fiber spats and a painted power steering cover. There's no set-in-stone rule that says you have to stick with one type of part – in fact, many of the most interesting modified Corvettes include a blend of carbon fiber and painted parts.
These parts represent only a small part of our entire Corvette carbon fiber and painted accessory inventory. If you have any questions about a recent order, or need some expert advice, please call our Corvette part consultants at 888.257.8515. And if you can't make up your mind between carbon fiber and custom painted parts, just choose both – many modified Corvettes include both kinds of components! Thanks for reading the RPI Designs blog – check back for more news about new Corvette parts, installation tips and much more.