Choosing the Right Hellcat Air Intake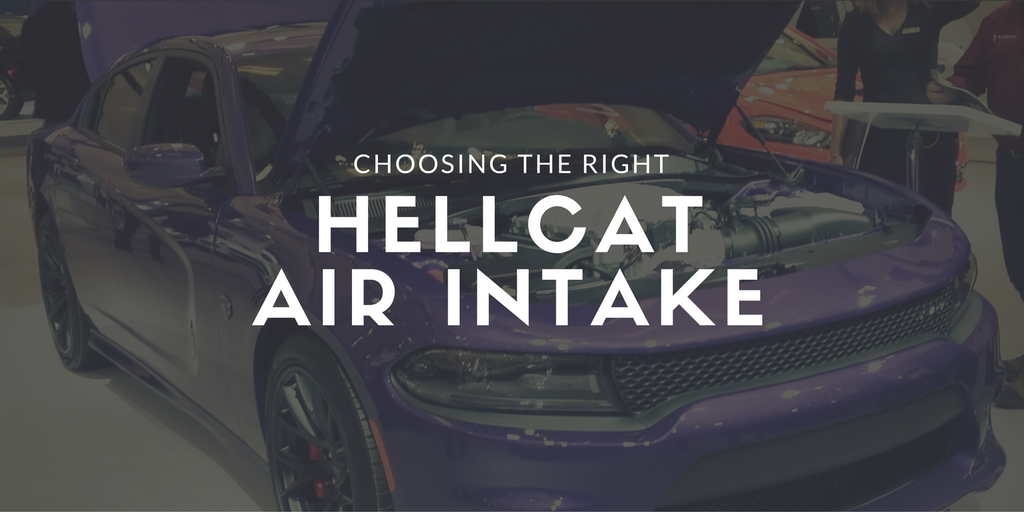 So you've decided to add a cold air intake to your Hellcat Dodge Challenger. The only question remains is, which one? RPI Designs currently offers a handful of designs, each with its own high-performance attributes.
RPI Designs carries a premium assortment of Hellcat air intakes, all designed to help your Dodge Challenger optimize performance in a variety of ways. A Hellcat intake is one of the best upgrades you can implement for your car – and with the selection and value at RPI Designs, you don't need to look elsewhere for your engine optimization accessories; they're all right here!
Why should you consider an air intake for your Dodge Challenger? There are plenty of good reasons to install a cold air intake. This type of DIY Hellcat installation is one of the most popular types of upgrade. Still not convinced this modification is right for your car? Consider the following:
Superior fuel mileage. With a Hellcat cold air intake for your Dodge Challenger, you'll enjoy a noticeable bump in fuel economy. An air intake – including all the cold air intakes we sell at RPI Designs – are specifically designed to optimize engine efficiency. Some cold air intakes can add an extra 3-5 MPG. That might not sound like a lot, but think about how much fuel savings you'll enjoy over a full 12 months! Fuel mileage isn't the only reason – or even the most talked-about reason – for doing Hellcat air intake upgrade, but it's certainly one of the most beneficial!
Optimal engine performance. The Hellcat engine loves cold air. The more, the merrier. And every one of our Hellcat intakes for the Dodge Challenger offer extra cold air into your car's combustion chamber. The result is a better-running engine that performs better in all kinds of conditions. With our Hellcat intakes, your car will run better – and you'll notice the difference immediately. From more responsive acceleration to greater horsepower, you won't be disappointed with a Hellcat air intake from RPI Designs – even by Dodge Challenger standards.
Easy installation. Here's what sets a Dodge Challenger cold air intake apart from other engine modifications. In less than an hour, you can install a high-quality air intake. Relatively simple to set up, our intakes include everything you need for a professional-grade, quality install. Putting an Hellcat air intake on your Dodge Challenger Hellcat is the perfect upgrade project for mod fanatics of any experience level – beginners, advanced, and everyone in between! When you look at the ratio between actual performance improvements and installation time, a Hellcat air intake is maybe the best overall upgrade you can do. Unlike an exhaust modification or supercharger installation, all Hellcat air intakes at RPI Designs are make to provide almost-instantaneous improvements – and you'll notice the different right away. Many of our Hellcat air intake installations take well under an hour.
These are just three major benefits you'll enjoy with a Hellcat intake installation. And here's the thing: every Hellcat air intake we sell at RPI Designs already comes highly recommended. If we wouldn't use it on our own Challenger Hellcats, we don't offer it to our customers. It's that simple. You really can't go wrong with our Challenger air intake upgrades, but here's an overview of the different Hellcat air intakes for sale:
When 699HP Just Isn't Enough
Need a little extra boost? The 2015-2016 Challenger Hellcat SRT aFe Cold Air Intake adds an extra 37 horses, thanks to an abundance of power. The one-piece sealed housing gets rid of the dreaded ÔÇ£middle manÔÇØ in many air intake systems that damper ultra-cold air. This aFe cold air intake exceeds factory specifications and output by more than 10% and best of all, no tuning is necessary. Just install and you're good to go! In terms of pure HP gains and ease of installation, this aFe Hellcat intake is simply one of the best under-the-hood accessories for the Dodge Challenger, bar none.
Excellent Value, Easier-Than-You-Think Installation
New air intake installs can be a hassle, especially if you have to mess around with OEM components. But the Magnum FORCE Pro DRY S Stage-2 Intake System avoids the headaches from the get-go. This Hellcat intake system has a robust 7ÔÇØ flange air filter to ensure optimum intake. What's more, a strategically placed one-piece heat shield keeps your Challenger's engine heat away from the cold air intake process. The simple yet effective design on this Hellcat intake effectively separates different aspects of your engine, allowing everything to perform optimally – much better than stock performance metrics. The result? Better performance, superior HPs and impressive torque gains. When our customers demand exceptional value and instant performance upgrades, they go with Magnum FORCE Hellcat intakes. And it's easy to see why – grab one today and hit the ground running!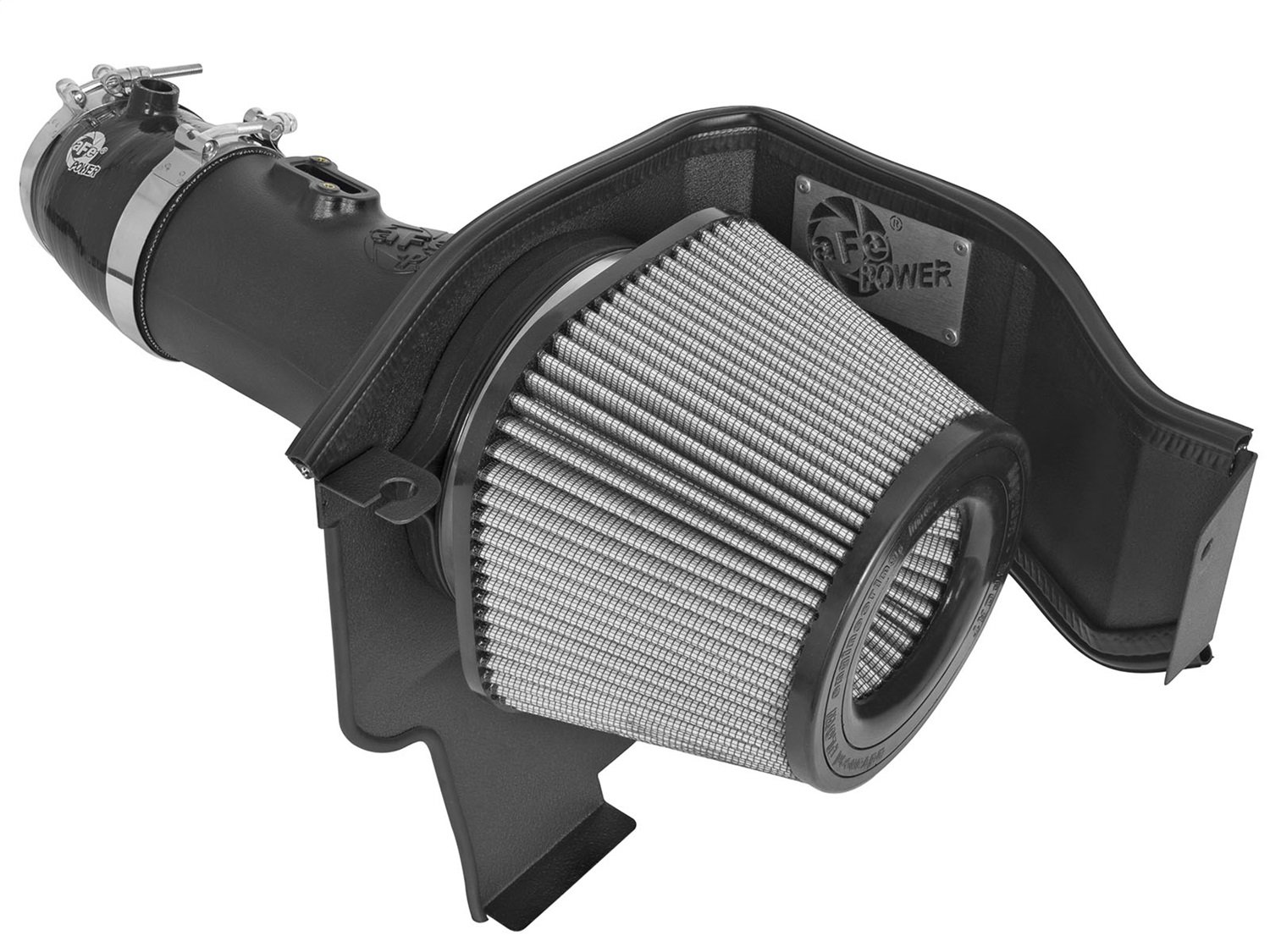 +39 HP, Reduced Installation Time
Very similar to the Mangum FORCE Pro Dry S intake, the Magnum FORCE Pro 5R Stage-2 Intake System includes a pre-filter with a washable and reusable air filter. No other Hellcat air intake offers the repeat performance characteristics as the Pro 5R Stage-2. Plus, a Roto-mold tube is custom manufactured for effortless, fail-proof installation. Installation time for this superior Hellcat intake takes less than an hour. And the extra 39 horses are certainly nice!
Less Throttle Response Time, More Raw Power – All at a Great Price!
One of our most popular cold air intake configurations, is the 2008-2015 Dodge Challenger aFe Power Sprint Booster features flexible model installation integration (eight different Challenger vintages, from '08-'15) and 3-position convenience. If you're looking to modify your Challenger with the most bang for your buck, it's hard to beat the aFe Power Sprint Booster. With this Hellcat intake, you'll enjoy the quality and exceptional performance you've come to expect with aFe, all at a great price. Going above and beyond stock performance is one thing, but it's even more impressive with the Dodge Challenger Hellcat, simply because the car is known for fearsome, full-throttle specs, right off the factory floor. Yet this Dodge Challenger Hellcat aFe cold air intake pulls off a complex upgrade with ultra-easy installation. Yet another outstanding Hellcat intake from aFe!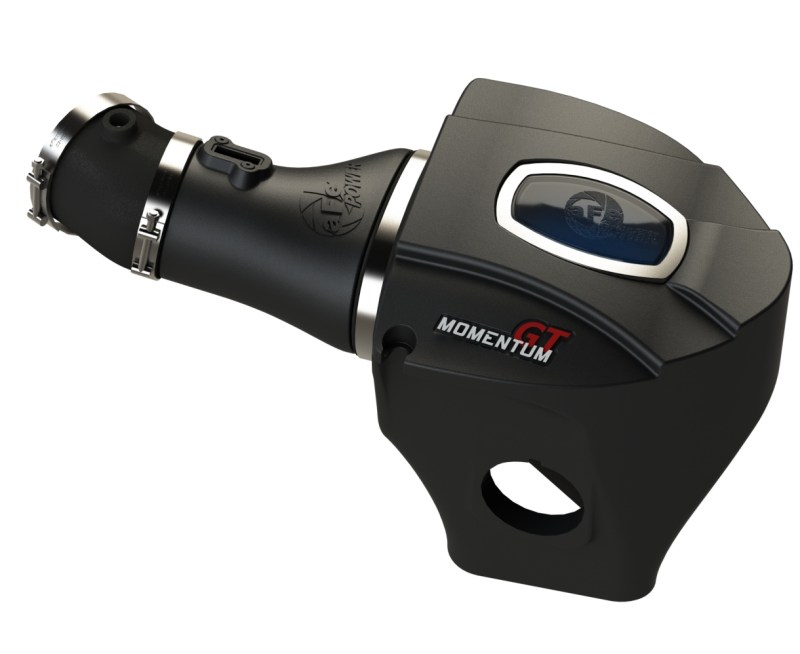 No to Additional Tuning, Yes to Extra Power
You'll enjoy all the pulse-pounding power of a Hellcat air intake with the 2015 Dodge Challenger SRT Hellcat V8-6.2L (sc) HEMI Momentum GT Intake System, and you'll also love the accessible design – a nifty sight window lets you inspect the filter status without disassembly. If factory Challenger performance leaves you wanting more, turn up the volume (and velocity) with the Momentum intake upgrade – it'll boost torque up to 33 ft.-lbs., courtesy of a pair of 9ÔÇØ air filters and industry-leading hardware components.
Other Popular Air Intakes for the Dodge Hellcat
RPI Designs also sells the following air intake systems for the Dodge Challenger. These intakes are popular with Hellcat enthusiasts and anyone looking for a performance boost:
2011-2017 Challenger R/T and SRT-8 K&N Air Intake System
One of the favorite intakes in the Dodge and Hellcat community, this SRT-8 K&N air intake kit comes with the manufacturer's famous Million Mile Limited Warranty. What's more, it also offers a nice boost in power and torque, not to mention better fuel economy. All of these benefits are available throughout your car's entire RPM range. This is the one of the preferred K&N intakes for the Dodge Challenger Hellcat. Less air restriction, more power (about 21 HP @ 5200 RPM), better performance – with this classic Doge Challenger K&N kit, you get everything – all for a great price!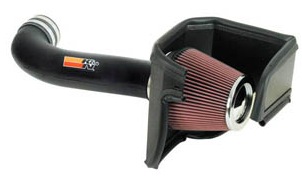 2008-2010 Challenger 5.7L and 6.2L Intake System
With up to a 16 rwhp (horsepower gains to the wheels) gain, this CAI intake system is the product of rigorous testing, advanced engineering, and distinct racing heritage. CAI has produced one of the best air intakes for your Dodge Challenger, with some of the most accurate performance measurements – no inflated HP numbers and closed-hood testing ensure your 16 rwhp gain is legit. This kit includes an aluminum insulated box, lid, thermal coated intake tube, air filter and easy-to-follow install instructions.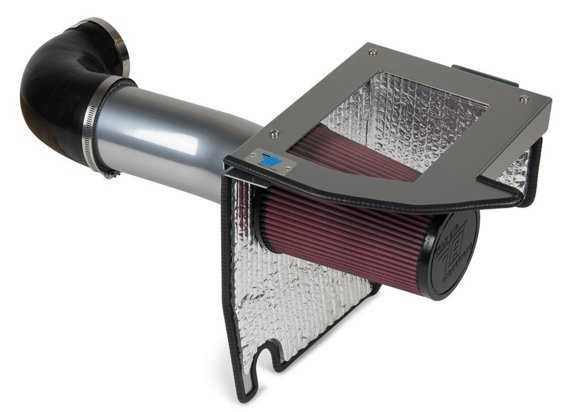 Challenger R/T & SRT8 AIRAID intake system
Simply put, this air intake is one of the best-performing kits for your Dodge Challenger. Period. This AIRAID system includes superior cool air dam system technology and adds 12 HP to the Challenger's engine. Plus, it installs in 30 minutes. Performance, power, premium engineering – this AIRAID cold air intake has it all.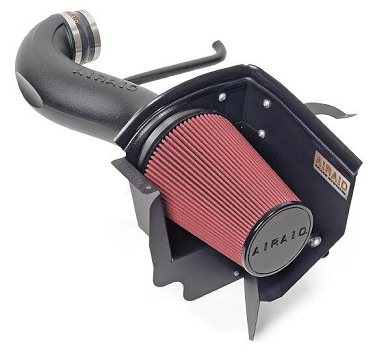 Our Hellcat air intake systems are just one of many product categories we offer for the Dodge Challenger. Browse our online Challenger parts & accessories store to find the parts you need at prices you can't pass up!
If you have any questions about our Hellcat air intakes, or if you'd like to speak with one of our Dodge Challenger Hellcat intake experts, give RPI Designs a call today at 888.257.8515. Thanks for visiting RPI Designs, the home of the best Hellcat intakes anywhere!