5 Most Popular DIY Camaro Mods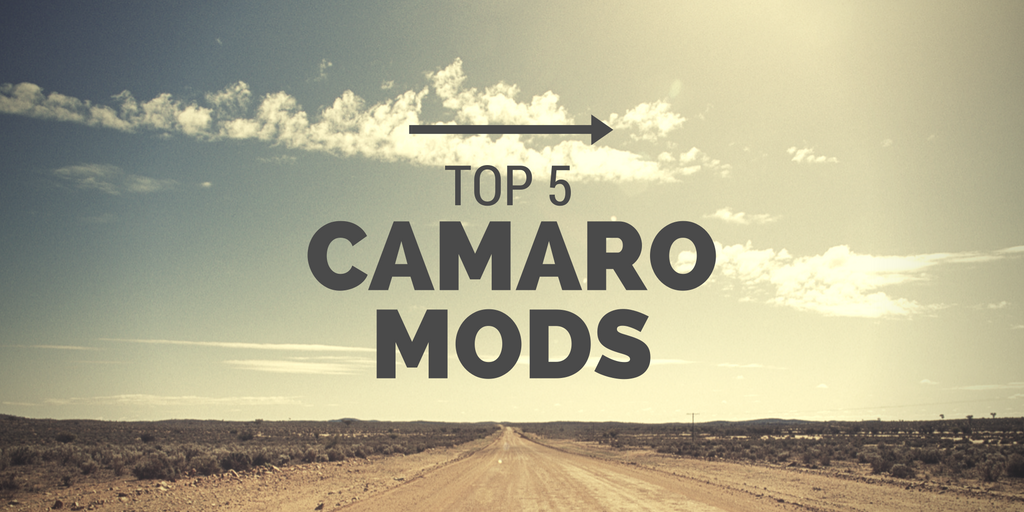 Since its inception in 1966, the Chevy Camaro has been the quintessential muscle car. The Camaro's appearance and performance characteristics have made it one of the most popular cars to own and drive. And for mod enthusiasts, the Camaro has few rivals. From small body modifications to under-the-hood upgrades, newer Camaros – the 5th generation (2010 – 2015) and 6th generation (2016 – present) models have inspired a whole new generation of do-it-yourself (DIY) mod fanatics.
RPI Designs offers a great selection of 5th generation and 6th generation Camaro parts and accessories, and we're a popular supplier for some of the most renowned custom auto body shops across the country.
Our Camaro mod experts at RPI Designs field tons of questions about recommended DIY Camaro upgrades. Short answer: you're always encouraged to give your Camaro additional accessories or targeted modifications. With new products always added to our impressive assortment of Camaro accessories, there's certainly no shortage of DIY Camaro mods to do. The question is, which ones should you consider, whether you're a new Camaro owner or a longtime Chevy Camaro fanatic.
The answer depends on what you're actually looking for with an upgrade:
Performance. From HP to better torque to optimal gas mileage, this type of mod usually involves under the hood parts, but can also include exterior components and wheels / tires to streamline your Camaro's profile, thus reducing air drag. Performance DIY Camaro mods are always the most desired upgrade.
Appearance. If you take your Camaro to car shows frequently, you'll want to consider a DIY Camaro mod that focuses on appearance. Under-the-hood components, exterior upgrades, emblems & lettering, even cockpit accessories (our retro gauges are always in demand) – again, RPI Designs provides everything you need in one convenient location…our own parts warehouse!
Keeping your Camaro looking good after an upgrade or modification adds value to your hard work. RPI Designs sells a premium selection of car covers and car care products to ensure your favorite car remains the sleekest looking automobile on the road, or in the showroom!
These are just a few of the major categories to consider for your Camaro DIY modifications. With RPI Designs, you have an endless assortment of upgrade & mod products to choose from. Now that we've gone over some general mod types, let's dig into some specific Camaro modifications that are worth considering for your next project.
Here's a list of the most popular Camaro modifications for the do-it-yourself types:
Air Intake
Advantages: optimal HP and torque, better gas mileage, upgraded performance from factory components
Estimated DIY time: 1-3 hours
Why are Camaro air intake modifications so popular? For one, you usually get a noticeable increase in HP, along with superior gas mileage. While most Camaro factory components are already performance-friendly, you can always squeeze a few more horses with an air intake system. What's more, they're relatively easy to install, and RPI Designs offers plenty of choices for Camaro owners.
Custom LED Lighting Kits
Advantages: super-sleek appearance, awesome eye-catching appeal
Estimated DIY time: 1-2 hours, tops
One of the most popular DIY mods for today's Camaro is an LED lighting upgrade. And our 6th Generation Camaro Light Blackout Kit provides everything you need for a complete, totally cool makeover. Whether you want to blackout the rear reflectors, third brake light or other lighting components on your Camaro, this kit offers easy installation, terrific value and the option of vinyl or acrylic application. This is the perfect DIY mod for new Camaro owners.
Interior Parts
Advantages: provides the change to give your Camaro mod extra attention to detail
Estimated DIY time: 1-3 hours
From trim kits to painted parts, nobody beats our selection of interior parts for your Camaro DIY mod. The 6th generation Camaro pedal covers are crafted from solid stainless steel and provide a sporty, race-inspired appearance for your car's interior. And no worries about fit & function – this is a genuine General Motors Camaro mod accessory!
Wheels
Advantages: better control and handling, sporty appearance
Estimated DIY time: 2-4 hours
If the engine is the heart of a Camaro, the wheels are the soul. Factory Camaros have already impressive wheel and tire characteristics, but sometimes you need that something extra to make your car stand out in a crowd – and on the road! A DIY wheel modification is the surest way to give your Camaro wheel-gripping performance and jaw-dropping style.
Caliper Covers
Advantages: Better brake response time, color coordination
Estimated DIY time: 2-3 hours
Few Camaro modifications are as instantly recognizable as caliper covers. But they're not just for a flashy appearance. MGP caliper covers, for example, are rigorously tested to meet the industry's most demanding brake component specifications.
Exhaust System
Advantages: more HP, better overall engine performance
Estimated DIY time: 3-4 hours
While air intake is all about input, the exhaust system is all about output. A high-performance system, such as the Camaro Kooks exhaust upgrade, provides a boost in performance while also adding an aggressive aesthetic for your Camaro's underside.
Airbrushed Strip Kits
Advantages: adds style to any Camaro, can be added to all exterior panels
Estimated DIY time: 1-2 hours, depending on the part
Camaro owners love the classic styling and what better way to bring out the classic aesthetic than with pin-stripes. RPI designs has a great selection of DIY airbrushed parts as well as ready-to-ship graphics kits, that are easily installed.
RPI Designs is the DIY supplier of choice, as our 2010 – 2015 Camaro accessories and 6th generation Camaro parts offer superior performance at competitive prices. If you're having trouble locating your Camaro mod parts and components, just give us a call at 888.257.8515 and we can help. You can also visit our contact page to send a secure message. From Camaro modifications to custom airbrushing services, RPI Designs has everything you're looking for. Browse our auto parts shop today!