C7 Corvette NoviStretch Front Bumper Mask
Are you looking for added protection for your C7 Corvette while driving down the road? Does the sound of little pebbles hitting your car make you cringe? Then check out this C7 Corvette NoviStretch Front Bumper Mask. This is the perfect solution to protect your paint job from dirt and debris.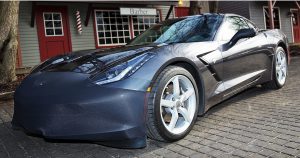 The C7 Corvette NoviStretch Front Bumper Mask is made of a Synthetic Stretch Mesh Fabric with durable elastic trim. All hidden hardware. Easy snap and strap installation. Made right here in the USA.
This mask offers durable, quality material that protects the paint surface from common daily wear, while breathable synthetic mesh allows for the greatest surface coverage without creating operating temperature issues. The "Snap & Strap" fastening systems allow for quick and easy installation and removal of the mask or cover with no cutting, drilling or permanent alteration to the vehicle required. The stretchable fabric allows for a tight, secure, contoured fit around front bumper or side-mirror, without damaging clear-coat paint finish by rubbing or chaffing. Additionally, the stretchable, synthetic, mesh fabric and unique design allow for easy cleaning, quick drying, and compact storage when not in use.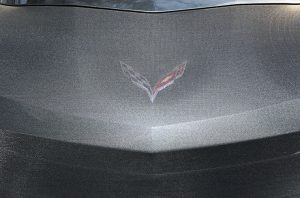 Installation is a breeze. You will be supplied snap head screws to replace your existing mounting screws. Once all screws are replaced you can then use the snaps on the mask to secure into place. The initial installation should require approximately 15 minutes to complete. After setup the mask can be easily installed and removed in just under one minute.
This is one of our best sellers here at RPI Designs. If you're looking for a quality product for your C7 Corvette than this is it! You will not find a better mask on the market for the price!