American Muscle Cars: The Classics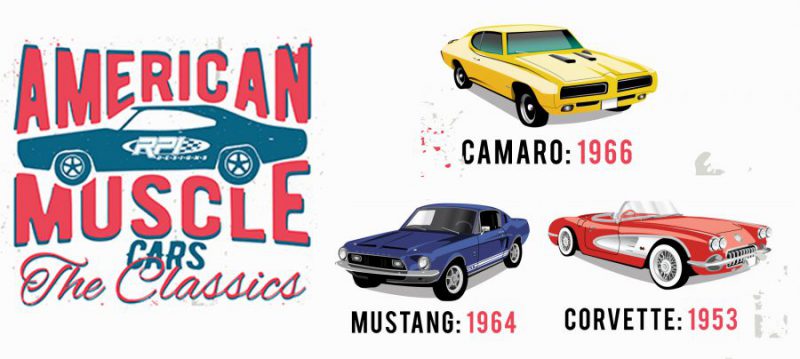 Any discussion of classic American muscle cars must include the Corvette, Mustang, and Camaro. Every car enthusiast has their opinion on which one's best – we happen to love all three. Let's forget about opinions for a moment. Here are some cold hard facts about three of the most legendary muscle cars ever produced.

Share this Image On Your Site
Initial production year
Camaro: 1966 (1967 model year)
Mustang: 1964 (1965 model year)
Corvette: 1953
Popularity
Not all muscle cars have muscular sales figures, but the Vette, Mustang and Camaro have long been showroom favorites. Peak production figures for each classic muscle car:
1979 Camaro: 282,571
1966 Mustang: 607,568
1979 Corvette: 53,807
'79 was the era of disco, bell bottoms and big hear. And it was also the pinnacle of muscle car production. The Camaro and Corvette both had record production runs, and the Mustang also had an impressive tally, with 369,936 rolling off Ford factory lines.
Under the Hood: HP with Muscle to Spare
Standard engine performance separates typical muscle cars from all the rest. And the engines on these three vehicles are anything but typical. Here are the most recent performance characteristics:
6th generation Camaro: 2.0 L turbo, 275 HP
6th generation Mustang: 2.3 L EcoBoost, 310 HP
7th generation Corvette: LT1 6.2 L V8, 455 HP
How Much Money for the Muscle?
Here are the most recent sticker prices. For a (ridiculously low) reference point, the 1969 Z28 Camaro Coupe had a base price of $2,881!
Camaro: $25,905
Mustang: $25,185
Corvette: $55,450
Through the Years: From Classic to Cutting-Edge Generations
How much horsepower has each classic muscle car added through the years? One thing's for sure…with each succeeding generation, all of these classic cars kept piling on the muscle!
Camaro
1st generation (1953): 140 HP
6th generation (2016): 275 HP
96% increase in horsepower
Mustang
1st generation (1965): 260 HP
6th generation (2015): 435 HP
67% increase in horsepower
Corvette
1st generation (1953): 140 HP
7th generation (2014): 650 HP
A whopping 364% increase in horsepower