Adam's Polishes Premium Car Care Products
With warmer weather just around the corner people are starting to get their cars out from a long winter storage.  With the warm weather comes car shows, car cruises or just driving around your favorite car showing it off.  RPI Designs realizes that everyone needs a great car care product to  detail their car, that is why they carry Adam's Polishes Premium Car Care Products  .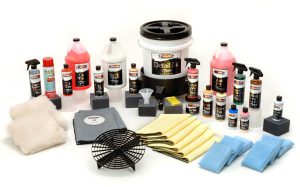 You may know there are a lot of car care products on the market, one would just step into a local auto part store or department store and be overwhelmed with shelves of products promising you all the same things.  So what makes Adam's Polishes so special?  It is very simple,  their products are not mass-produced and each is carefully formulated with special blends of high-quality polymers, acrylics and waxes.   They are constantly testing and reevaluating their products with a team of people that are dedicating in providing the best car care products available.
Let' s take a closer look at some of their products.  If you ever had some debris or contaminates that is stuck on your paint that regular wax does not get off then you should try some  Adam's Detailing Clay Bar.  Used with Adam's Detailing spray for lubrication you will see how easy it is to get your paint to look and feel super smooth.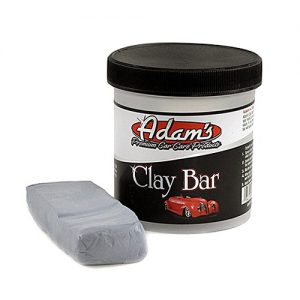 There are sometimes where you want to clean you car but it in not really dirty enough for a complete bath or you may live in a water restriction area due to a drought.  Then give  Adam's Waterless Car Wash – 32oz. a try, it is specifically designed to remove dirt while being gentle on the paint.  It will save water, time and will help prolong your wax or sealants because it is a less invasive way to clean and you can use in direct sunlight.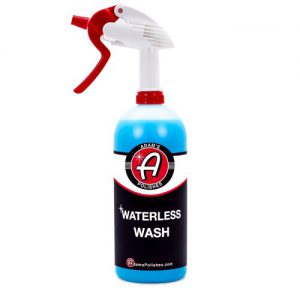 If you are new to the world of car detailing one great way to start is with Adam's Basic Car Wash & Wax Kit.  With this kit you will get all the basic car care products to get you started, this kit comes with a  Bucket with Grit Guard,  16oz Buttery Wax,  16oz Car Shampoo, 16oz Detail Spray, Double Soft Towel, Great White Drying Towel, 2 Microfiber Applicators and a  10″ Car Wash Pad.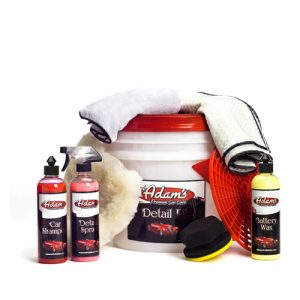 With the Adam's Polishes Premium Car Care Products we just light polished the surface,  they have a wide range of car care products to keep your pride and joy looking brand new for a long time to come.  Check out all of the Adam's Polishing products available at RPI Designs.