How to Install a 6th Generation Mustang Cold Air Intake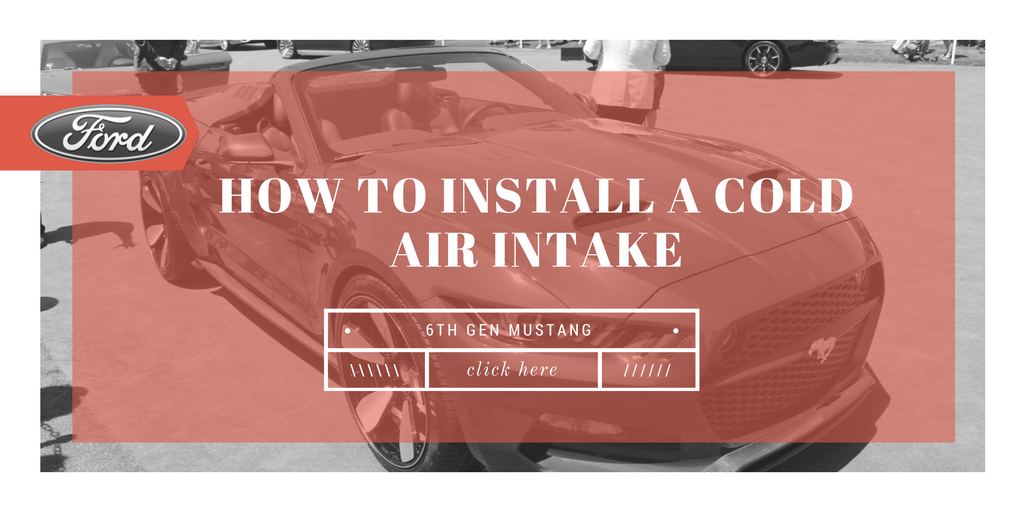 Of all the 6th generation Mustang modification parts we sell, cold air intake components and related accessories might be the most popular. A cold air intake certainly offers the greatest return on investment; many of our Mustang cold air intakes are low in price, and they offer high-end performance characteristics, including:
Efficient filtration – stock filters can't match most aftermarket filters, which help catch more dirt and debris.
More responsive acceleration – few muscle car modifications provide the instant acceleration upgrade of a Mustang cold air intake.
Better fuel economy – the greater the cold air intake entering your Mustang combustion chamber, the less gas consumption required. Better performance and gas mileage? You bet.
Superior sound – who doesn't love the full-throated roar of a modified Mustang? Other than an exhaust mod, nothing produces those diabolical decibel levels quite like a Mustang cold air intake.
Best of all, adding a high-performance aftermarket cold air intake for your Mustang is relatively simple to do; with a few tools and about an hour of time, you're ready to go!
Most 6th Generation Mustang Cold Air Intake Installation Tools
Philips head screwdriver
Standard metric socket set with 6ÔÇØ extension
Torx bit set
Needle-nose pliers
A knowledgeable buddy to help (especially if this is your first attempt at a Mustang cold air intake)
A few cold drinks (optional, though preferred)
Time to Install Your Mustang's Cold Air Intake – Let's Go!
Remove the original air intake cover, which is connected to the throttle body.
Disconnect PCV hoses from existing air intake body. You'll need the pliers for this step, as some hoses are secured with metal clamps.
Remove mass air sensor. Pay attention to the red tab on underside of the sensor connector.
Remove single retaining bolt located toward the fender.
Lift air box from throttle body; you've now removed the stock components for the Mustang cold air intake installation.
Remove mass air sensor from stock air box. Install in new cold air intake housing.
Position new cold air intake with factory mounting holes.
Slide air intake connector to align with factory components. This step might take a bit of ÔÇ£wiggle,ÔÇØ depending on the type of cold air intake.
If necessary, install reducer sleeves. Ensure screws are facing up for easy access. Nothing stalls a cold air intake replacement faster than inaccessible screws and connectors!
Install new cold air intake filter. Typically requires socket to tighten.
Install cold air intake components on throttle body.
Re-connect factory connections, including PCV hoses.
Ensure all connections are secure.
Install air intake cover.
Congratulations – you're finished. Before you take your Mustang out for a test drive, it is recommended to get a tune-up for your Mustang before extended driving.
RPI Designs is your Mustang mod headquarters. We offer all the best 6th generation Mustang engine performance modifications, including cold air intake upgrades. Since 1998, we've remained a preferred supplier of performance auto parts and accessories, and our 6th generation Mustang parts shop includes everything from custom painted parts to caliper covers. If you need it, we have it. And if you can't find it on our website, give our customer service team a call at 888.257.8515. We work with many outstanding manufacturers and suppliers, and we're confident RPI Designs will meet and exceed your expectations.
Good luck with your Mustang cold air intake installation, and check back here at the RPI Designs blog for more helpful tips and tricks.