Knowing Your Exhaust: Catback vs. Axleback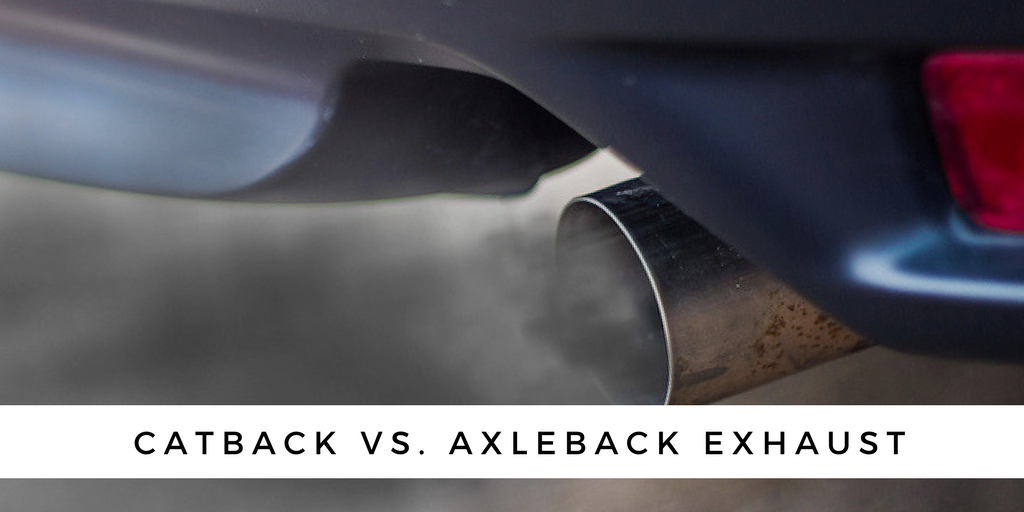 An exhaust system is located at the back of your car, but it's definitely at the forefront a heated debate. If you speak with ten different auto enthusiasts about their preference between a cat back vs straight piped exhaust system, there's a darn good chance you'll end up with half on one side of the argument, and half on the other side.
This blog will define the two types of popular exhaust systems, the catback and axleback exhaust configurations, then examine the main differences between them, with implications on performance and extra power.
With a full assortment of both catback and axleback exhaust systems to choose from, RPI Designs is a trusted provider of high-performance exhaust components for dealers, individual owners, mechanics, repair shops and more.
Let's take a look at the main differences between a catback and axleback exhaust. Then we'll review some popular exhaust systems of each type available right here at your #1 performance exhaust store: RPI Designs!
So what exactly is a "catback" exhaust? This type of exhaust refers to all exhaust components and pipes after the catalytic converter, leading all the way to the end of the exhaust system (the tailpipe). A catback exhaust includes the intermediate pipe – which runs out of the catalytic converter, the muffler and tailpipe. RPI Designs sells a huge selection of catback exhaust systems, for all types of cars, including the Ford Mustang, Chevy Camaro, Chevy Corvette, Dodge Challenger, and much more. Catback exhaust systems are one of our most popular types of exhaust upgrades, simply because it's a great way to add some aftermarket performance to stock components.
Straight piped exhaust, also called an axleback exhaust
A straight piped exhaust system is everything after the rear axle. In essence, a straight piped exhaust configuration or axleback exhaust sometimes includes just the muffler and any exhaust pipe or "tips". Sometimes, the term straight pipe exhaust refers to an exhaust system that starts at the exhaust manifold, eliminates the catalytic converter, and goes straight to the muffler. In this setup, additional piping is required to connect the exhaust manifold and muffler. 

Advantages of Each Exhaust System
The catback exhaust, by definition, includes the catalytic converter. The "cat" increases exhaust back pressure, reduces noise and also helps limit pollution. If you're looking for extra noise and less pressure, a catalytic converter is a major obstacle. A catback isn't always the most popular with muscle car fanatics, but it's street legal in all 50 states; some states require emission reduction devices for automobiles, which includes catalytic converters.
The big advantage of an axleback exhaust setup is louder exhaust noise (depending on the type of muffler) and significantly reduced back pressure. Another big advantage of an axleback exhaust system is the relatively quick installation time.
So which one is for you? A performance catback exhaust system is designed to provide a small power boost, even with the catalytic converter in place. Many Camaro, Corvette and Mustang owners opt for an axleback exhaust.
However, today's performance exhaust systems – including the catback exhaust – are engineered to deliver power and efficiency…while still staying street legal.
All aftermarket exhaust components at RPI Designs are designed for optimal performance, which includes:
Better power. With gains up to 30-35 HP for many cars (Mustang, Challenger, Camaro, Corvette, etc.), the right axleback or catback exhaust can really rev up your car's performance.
Fine-turned torque. In terms of ft.-lbs., a catback exhaust typically outperforms an axleback exhaust. This is because there are more components and accessories involved with a catback exhaust installation. Since axleback exhausts are generally limited to everything after the rear axle, there's only so much room for improvement. But you'll still see a slight uptick in torque with an axleback exhaust!
Better mileage. With all the performance benefits built in to many RPI Designs exhaust systems, you'd think that superior fuel economy would be out of the question. But think again! With our catback and axle back exhausts, your car may see a small but still significant improvement in gas mileage. Power, torque, mileage – as you can see, an axleback or catback from RPI Designs is a worthwhile investment!
Keep in mind, your car's exhaust system – whether catback, straight piped, axleback or otherwise – is an important element of overall performance, which is why you should buy your exhaust components from a trusted supplier like RPI Designs. We sell premium aftermarket exhaust parts for all of your favorite muscle cars, including the C6 Corvette, 5th generation Camaro, Ford Mustang and many more.
Popular Catback and Axleback Exhaust Systems at RPI Designs
Here are a few of our favorite aftermarket exhaust systems, with examples of both axleback and catback systems for a variety of popular American sportscars. 
Corvette C6 Borla ATAK Axleback Exhaust
It's called the ATAK, and for good reason. With this Borla axleback system, your Corvette goes into attack mode on the track! This advanced system gives you all the noise you want on the outside, without extra cabin interference. Designed for optimal integration with Corvette's LS3 engine, this is THE race-car exhaust system to own. Plus, it installs directly with your stock exhaust system for super-easy application.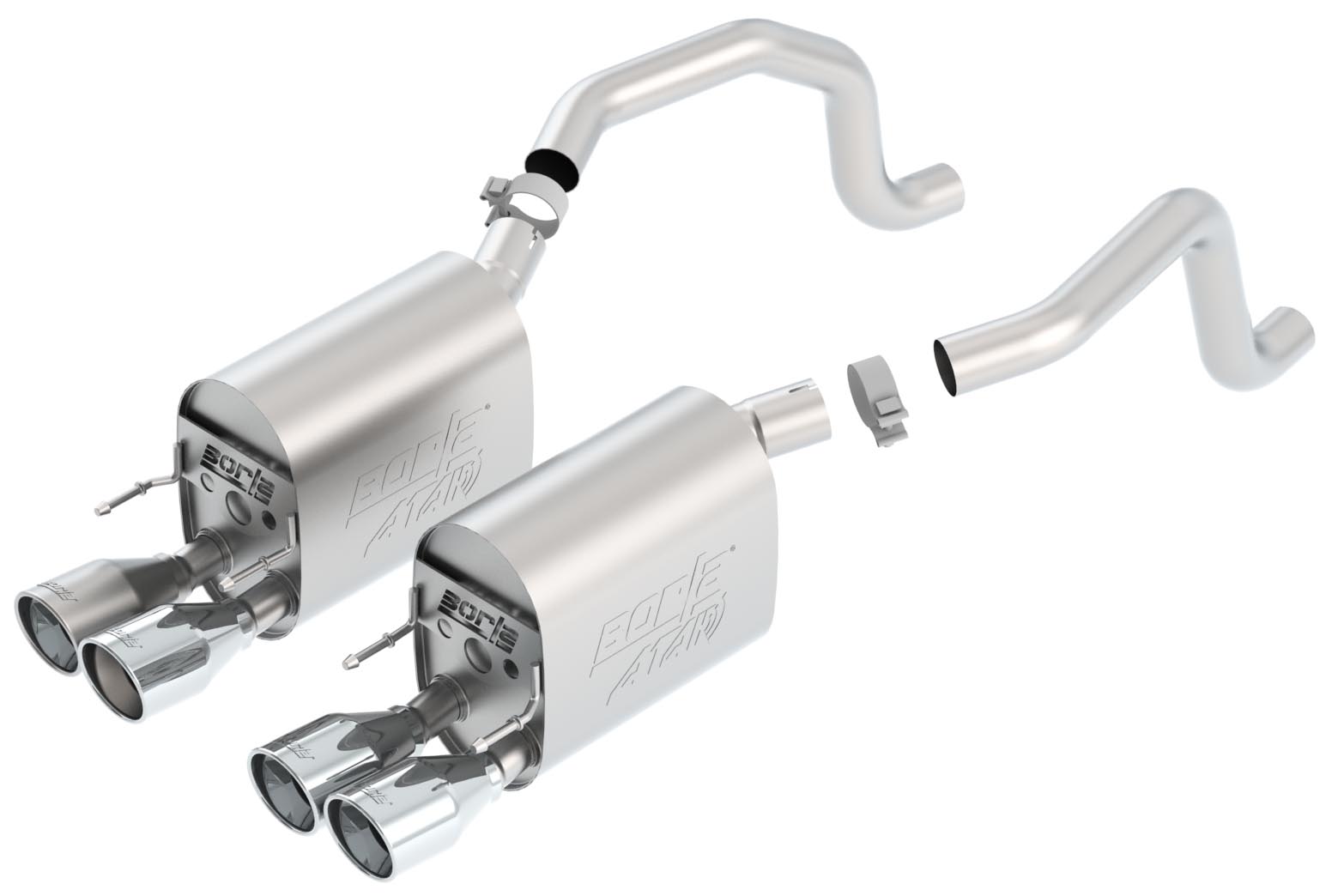 Camaro 6th Generation SS Stainless Works Exhaust – Catback Style
Switch it up with a classic Camaro catback exhaust. This high-performance aftermarket Camaro system offers simple bolt-on installation, including all required hardware for a professional grade finish. Wide  3″ mandrel bent tubing is channeled into an S-Tube muffler with 5" tips – with this catback exhaust, the configuration goes wide, wider, widest! American made quality is built into this quality 304 stainless steel catback exhaust.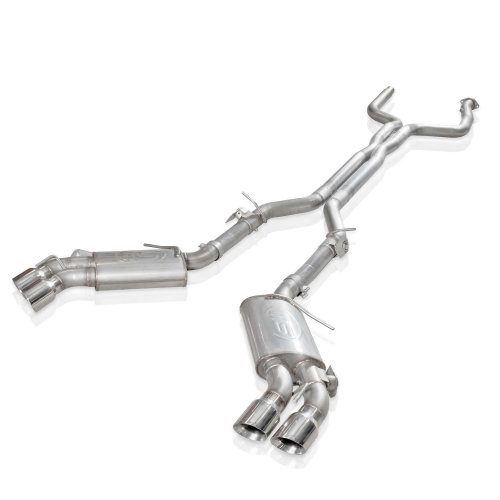 Mustang GT BORLA S-Type Rear Section Exhaust
From the best-known name in muffler performance comes an axleback system worthy of the first name in high-end auto racing. This Mustang GT Borla axleback setup features powerful performance, aggressive acoustics, and exceptional horsepower and torque gains. Everything ends in Borla's dependable, long-lasting 4" exhaust tips, with 2.5" tubing leading from your Pony's rear system. Plus, you'll enjoy Borla's famous Million Mile Warranty. Grab this axleback system today!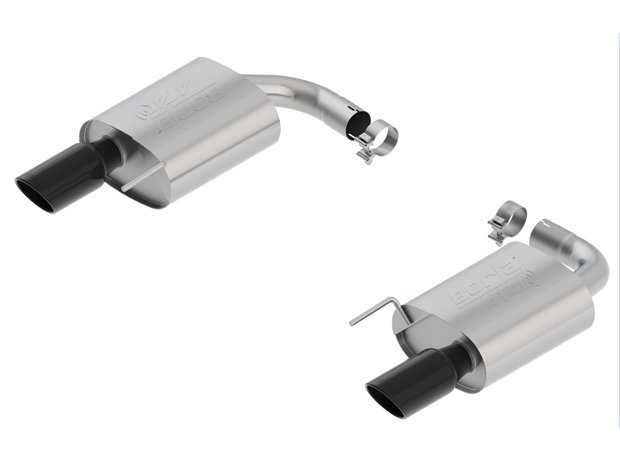 2015-2017 Challenger R/T Kooks 3″ OEM CatBack Exhaust With Black Tips
Get every last ounce of power out of your Challenger with this legendary catback Kooks exhaust. Even if you're used to a HEMI, this catback exhaust will impress with seemingly hidden sources of torque and power! Stylish black exhaust tips put a flashy finishing appearance on this popular kit, while X-pipe inclusion gives you added value – and years of dependable performance! This catback exhaust comes with an OEM inlet for easy integration with your Challenger's stock exhaust accessories.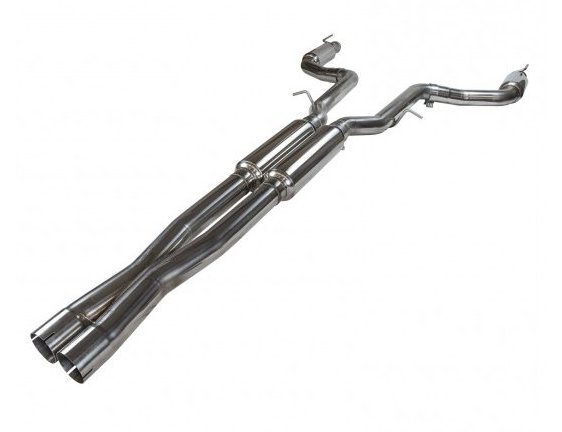 If you're undecided on which type of exhaust system you need for your car, call us at 888.257.8515. The exhaust parts experts at RPI Designs can provide detailed information to help you make the right decision. Thanks for reading our blog!