Billy Boat Performance Exhaust Systems
Billy Boat Performance Exhaust Systems company was founded from a family that has a racing heritage in their blood. They turned this automotive passion into one of the leading exhaust manufacturers. Billy Boat manufactures exhaust systems for most of all the major Automotive manufacturers. RPI Designs is proud to be one of Billy Boat's leading distributors for it is a product we are confident in selling.

The Anatomy of an exhaust system
An exhaust system has three key components, they are made up of the exhaust pipes, the mufflers, and the tips. All these components have to be designed so they will fit underneath the vehicle . This improve the performance and the sound of the car it is being installed on. Billy Boat uses T-304 Stainless steel in all their exhaust systems and every tube is precision mandrel bent on their CNC machinery. All hangers, resonators, and tips are T-304 stainless steel as well.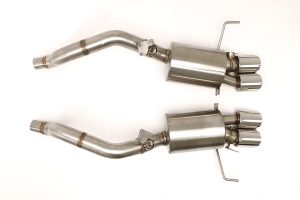 With 25 years of exhaust manufacturing experience, they have a unique way to manufacturing their mufflers. Each muffler is designed to optimize the particular car on which it is being installed. Not all cars are created equal and the same goes for their exhaust notes. Billy Boat realizes this and with their unique design and differences of material that is used they can create the best sounding exhaust note and get the most power out of each exhaust system.
An exhaust system is not complete without the exhaust tips. Since on most cars, the exhaust tip is the only part of the exhaust system you will see Billy Boat makes sure your exhaust system will get noticed. They use high quality t-304 stainless steel and their craftsmanship to make the exhaust tip not only to enhance the sound exiting the pipes but also to add styling to your car's appearance.

Billy Boat also has the famous PRT exhaust systems , with this No -Drone performance & Resonance control technology you are guaranteed to get mellow exhaust notes at cruising speed but true straight through sound when you are driving aggressively. RPI Designs is where you can find all of Billy Boat exhaust systems at the lowest price possible.