2015-2017 Ford Mustang Borla Exhaust Systems
There are not too many things in the automotive world that sound sweeter than a Ford Mustang cruising down the road or going up through the gears.  So how can a company improve on a sound that some think there is no need for improvement?   Well Borla Exhaust has figured it out and RPI Designs is proud to be one of their top distributors for the 2015-2017 Ford Mustang Borla Exhaust Systems .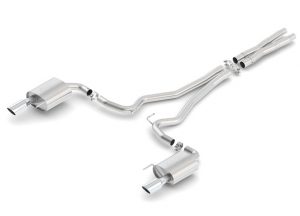 Borla offers 3 different levels of sound enhancement with the exhaust systems and they cover all the Mustang models.  Whether if you have a Mustang GT350, GT, Eco boost or a Mustang 3.7 liter  V6 Borla has your covered.  We will dive a little deeper into their three different sound levels so you will have a better understanding on which Borla system would be best for you.  Borla exhaust systems are available in Touring, S-type and Atak, all three systems are available in either Cat-back or in Axle back.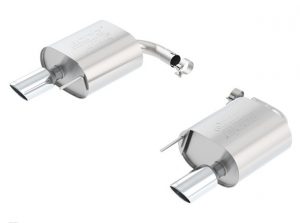 Borla entry exhaust system is the Touring exhaust system, this system is designed for Mustang enthusiasts that are looking for a better sounding exhaust system slightly louder than stock. This system will give you the least amount of drone while still allowing you to cruise in your Mustang.
Borla S-type is stuck right in the middle of the Touring and Atak, it is louder than the Touring but not as loud as the Atak, for most people the S-type is the popular choice.  This system gives you the best of both worlds, you get a great sounding exhaust system and the performance but under lite throttle it quiets down so you can cruise in comfort.
Borla Atak systems are for the Mustang owner that wants all out sound and performance,  this is for the gear head looking to hear their exhaust system over the cranking stereo system.  They are performance tuned to each model of Mustang to get the loudest sound available!!
All these systems are available at RPI Designs and if you have any questions on which system would be best for you, just give us a call we are here to help!!!