2009-2015 Dodge Challenger Stripe Kits
Want to change the appearance of your Challenger? A stripe kit is an easy affordable way to customize your car. Make a statement with a 2009-2015 Dodge Challenger Stripe kits. Whether you are showing your car off at car shows or just driving around town. These stripe kits will get your car the attention it deserves.
These stripe kits are made from the highest quality 3M automotive grade vinyl available. Just peel away the backing and put in place on your car.  Fit and finish is OEM quality. Available in different colors and patterns. Add style to your Challenger with these stripe kits. Make your car the talk of the town. You'll be turning heads for sure driving around in your already sweet ride with an added mod like this.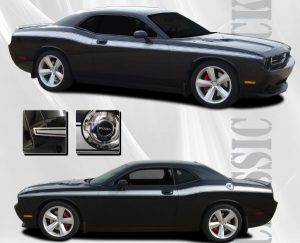 RPI Designs is your leader for Dodge Challenger body stripe kits. We offer a large selection of stripes for the side, hood, fenders and more. Check out our website for all your Challenger needs.